By Karen Clos
January 26, 2023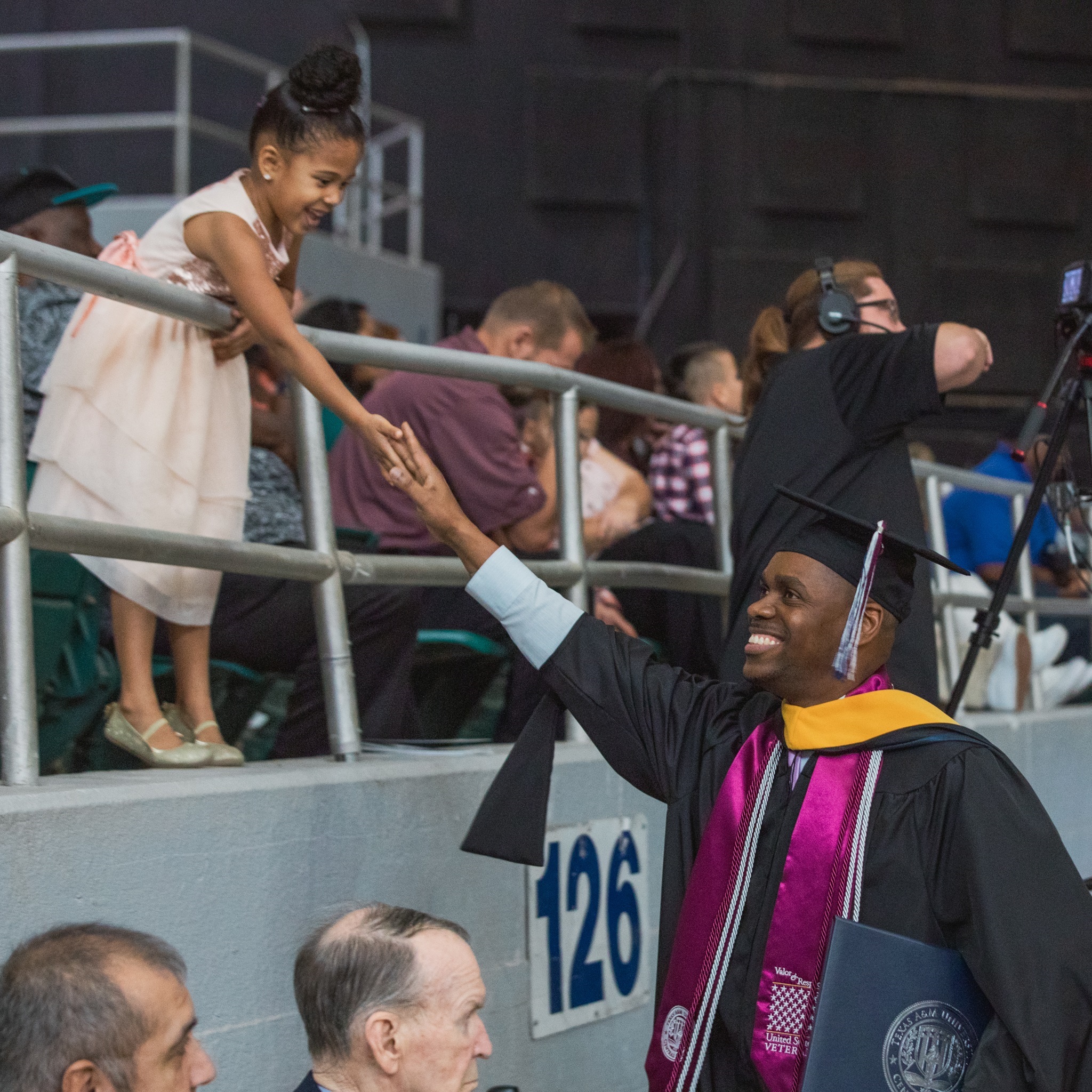 Frantzy Mesadieu and his daughter, Bernadette, celebrate during graduation.
Killeen resident Frantzy Mesadieu, 43, was born on a slender finger of land almost 3,000 miles from his home in Central Texas, but he still remembers its beauty and its people, and how this place – and his eventual transition to both U.S. citizenship and a Texan – framed both his past and his future.
His hometown, Jacmel, Haiti, is on the southwest coast of the Caribbean and is known for a long history of economic instability, poverty, and natural disasters.
None of these things were evident to a young Mesadieu, the second born child of an extended family of six.
Mesadieu still clearly remembers going to school – specifically, the beautiful, whitewashed buildings and their burgundy-colored roof tiles. The curriculum, even for the young ones, he says, was nothing to take lightly.
"We studied French and Creole, Spanish and English, math and science, and civic duties," he said. "Those who wanted education beyond secondary school had to pass a government examination. No one went to college without that."
Education became a major goal in Mesadieu's life – as did service to a country he had never set foot on until his 17th year. And this man, a two-time soldier, once serving in both the United States Marine Corps and U.S. Army, also became a foster parent.
It is, perhaps a credit to the quiet passing of time or the innocence of childhood that he does not remember the persistent poverty that has beleaguered his country for generations. He remembers the neighborhoods, the shops, the people, and even more importantly, being loved by a woman who was not his birthmother, but who would instill in him – and inspire him – to reserve a portion of his love for children in need.
"We lived in a large, open concept concrete house that was filled with floor to ceiling windows," he remembered. "And everywhere I looked, I could see the banana trees, the greenery, the people of our community, and the wide blue sky."
That he speaks as if he were a poet at heart is not difficult to reconcile. This place he describes is a fundamental part of who he is.
He met his stepmother, Perpetute Forges, when he was just a boy, barely tall enough to reach the kitchen sink. She took to him, he said, and raised him to be the man he is today with her constant and unyielding love – and more than a few Haitian hot dogs.
"I remember her cooking in the kitchen," he remembered. "She was dancing as she cooked, just enjoying herself, and at one point, she lifted me completely off my feet and stood me on the table, so she could dance with me."
Barely two decades later, Mesadieu had joined his father who had immigrated to the U.S. He had sent for his son, then 17 years old, and while he had proven himself to be a worthy student at the local high school, his first independent step on the road to maturity was about to happen.
Without his father's knowledge or consent, he had signed up with the United States Marine Corps' delayed entry program. Which meant, somewhat ironically, that he had left one island only to be introduced to another.
He was, he says, an unlikely soldier: a scrawny scrap of a young man at just 5'7 and 116 lbs.
"When I told my father my plan, he was devastated," he explained. "The moment I told him, he fell to his knees and begged me not to go."
It wasn't that his father objected to military service for his family's newly found homeland, he explained. It was that his stepmother's cousin had died in the Gulf War. And while that loss fueled their grief, it did not dissuade him; it inspired him.
And so it would be, less than a month after he had finished high school, Mesadieu found himself at Marine Corps Recruit Depot at Parris Island, South Carolina, an 8,000+ acre military installation designed with the sole purpose of identifying the best of the best.
Recruits are delivered by bus to the island in the dark of night, unceremoniously sorted, shaved, issued gear, fed, inspected, and evaluated for fitness. This, he remembered, was the beginning of a grueling 13-week challenge which would test him spiritually, physically, intellectually, and emotionally.
In no time, he remembered, he was running every obstacle course they had, participating in field exercises and leadership orientation, treading water in survival training in the Atlantic Ocean, and watching as the majority of those bused onto the island with him only weeks ago washed out of training.
"I remember being on what we called "Fire Watch," he said. "It was a one-hour security detail. Somehow I caught a glimpse of my face in a mirror underlit by my own 'moonbeam.'"
"I took a look at my own face and asked myself, 'Can I do it?'" he admitted.
Short answer: He could, and he did. As one of the 18 out of 70 recruits who had arrived under cover of darkness and survived, he had earned his place in Platoon 2020. But even that obvious accomplishment is not sufficient cause for him to brag.
"I wasn't the best," he admitted. "I was determined. When I am told that I can't do something, that's exactly when I clench my jaw and put myself squarely into it."
Within a year, he had been ordered to USMC Camp Foster in Okinawa, Japan. After serving for four years, including a promotion to corporal, he left the Marines, joining the U.S. Army where he served for another 11 years. There, he was promoted to SSGT and deployed six times in four years, until back injuries related to service forced him into medical retirement.
This is not, however, where his story would end; in fact, it was – whether he knew it or not – a beginning.
By 2016, he had enrolled at Central Texas College. In only two years, he transferred to A&M-Central Texas where he completed his undergraduate degree in computer information systems and cybersecurity. By December 2022, he had completed his graduate degree with honors.
Today, he says, he is on an entirely new path, recently becoming an associate researcher in the University's Cybersecurity Center where he works on AI software development.
"Sometimes, I cannot believe how fortunate I am," he admits with the trace of a smile showing itself alongside the hint of a dimple. "I am the first person on my mother's side to earn both an undergraduate and graduate degree. That means a lot."
Yes. The little boy who was raised at the gentle hand of his stepmother, who retained his love for his homeland but adopted a new country and served proudly in both peace and conflict has a heart large enough to continue reaching out.
He had married to his wife, Léàla-Ayako, while on duty in Okinawa after they were introduced by a mutual friend. They bonded over a shared love for family, her ability to cook, and his appetite for her cooking.
More importantly, he confessed, they shared a common love for children and a family. And, in the years that would follow, husband and wife would not only greet their own daughter, but also open their arms and their homes to a half dozen foster children.
"Some of the children we have brought into our home have been in pretty bad shape," he confessed. "Some have been drug infected or sick, and some have been intoxicated. One little boy was so filthy that when we gave him a bath, his hair fell out in clumps."
While some might wonder why anyone would bring challenges of this kind into their homes, Mesadieu and his spouse are not the least bit hesitant; in fact, their arms are, and always will be, open wide.
"It is so easy to love these little ones," he said. "In 16 years, I went from being a Marine to being a foster parent and a father. Surprisingly, the survival skills aren't that different."
Their own daughter, Bernadette, now 4, he says, beaming, is a source of constant joy.
For example, at the recent December 2022 A&M-Central Texas Commencement, she may have upstaged her own father.
Alongside hundreds of other graduates, Mesadieu had already accepted both his graduate degree and a hearty handshake from University President, Dr. Marc Nigliazzo.
It wasn't the mention of high honors he had earned that were echoing in his ears as he left the stage. It was the distinctive sound of his daughter calling for her daddy.
Even over the boisterous cacophony of the commencement crowd, he stopped in his tracks on the graduation floor and saw his daughter.
She was standing tiptoed in the front row of Section 126, immediately to his right, joyfully jumping up and down, both hands on the railing in front of her, trying to get his attention as only a persistent daughter can.
"It was a complete surprise," he said, making no effort whatsoever to disguise his pride. "One minute I was on stage, and the next thing I knew, there was my family. I heard my daughter and turned toward the voice, and I knew I had to stop – even for a minute – to recognize them, too."
In the moment that followed, he broke the ranks of graduates returning to their seats, and stopped to lift his arms up to his dauther's. They touched fingers despite the precarious reach of the railing, and a university photographer captured the image of their quick, but emotionally charged moment of triumph and tenderness.
"The little boy I was in Haiti and the soldier I was on all of those deployments hoped that there would be moments like this one," he admitted. "I want to do everything within my power to see that other children have the chance to know what this kind of love feels like."