By Karen Clos
April 16, 2023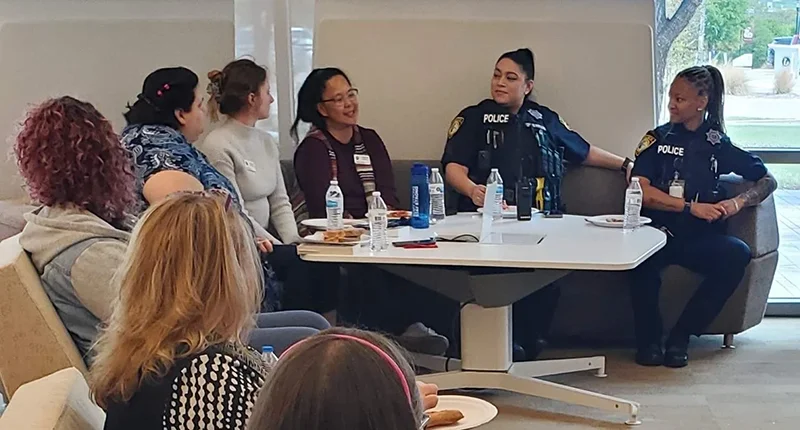 Seated, from left, Dawn Harris, Johnnie Porter, Stacie Gilyard, Jacqueline Rodriguez, Peyton Cook, Christine Acevedo, Omayra Pintado-Roman and Joeliqua Williams participate in a meeting recently.
Lisa Hopkins, Texas A&M University-Central Texas associate librarian and assistant dean, is unlikely to be found patrolling the stacks of books at the University Library, or raising a silent single index finger to her lips when she hears a pin drop of conversation, or glancing sternly over the brim of reading glasses, or pulling her hair back with a pencil.
She is one of a well-organized team of librarians whose everyday jobs are both simultaneously routine and unapologetically innovative. This, she admits, makes her job — and hopefully theirs — pretty close to perfect.
There is, she says, one aspect of her work that she looks forward to every year: planning and preparing the semi-annual book club.
"It started about five years ago," she said, noting that the goal was to attract university staff and students who were drawn to "smart, meaty discussions" that offered opportunities to exercise both their intellectual prowess and substantial curiosity.
Recently, Hopkins, a Florence resident, introduced "The Dictionary of Lost Words," a 2022 book by author Pip Williams. And, in a quiet corner of an otherwise bustling library, more than 20 interested staff, faculty and students answered the call for conversation.
The book, she says, is written from the perspective of an imaginary character, Esme, who spends her childhood in an Oxfordian garden shed named by her father as a 'scriptorium' where he and a team of lexicographers compiled words for inclusion in the first Oxford English Dictionary.
Esme witnesses this massive project from her spot beneath their worktable, where she quietly takes in their deliberations about what words are worthy and which must be discarded.
But, instead of accepting their judgement as final, Esme collects the cast-off words that flutter to the floor on slips of paper, determined to save them from obscurity by exploring their meanings and becoming devoted to their salvation.
And, when she is too old to fit under the workbench, Esme later actively pursues her collection of 'lost words,' hearing them in use at the marketplace and other venues.
Hopkins is much too humble to directly compare herself with Esme, but the fact remains that she, too, is a lover of languages in general, and words in particular — especially after attending St. John's College, where the college's Great Books Program required every student to study Greek.
She remembers being intrigued by an early, but intense, classroom conversation where she and the other students were brought to the realization that for every Greek word they were learning, there were just as many that had long since been forgotten — which made it a practical impossibility to know with certainty that any Greek text had been translated correctly.
"We were arguing about how to translate a passage, and we saw that if we looked at each word in the lexicon, there were several very different words that could 'equal' each English word, and, of course, each different word would change the meaning of the passage," she said.
"We had a very heated discussion about it, and finally had to agree that no translation we or anyone read could ever be 100% certain because some of the words were like locked boxes we could not unlock."
Alys Earley, administrative associate in the College of Education and Human Development, attended the book club conversation during her lunch hour, adding that she has always harbored an interest in etymology and the evolution of language and was excited to share her thoughts and hear what the other readers thought.
"The book club was a wonderful experience, and I am grateful for the opportunity to participate," she said. "I only wish that we could have met more than once for this book. There is still so much to be said and debated. Luckily, I have more than one friend who participated, so I plan to ask them to join me in further conversation on our own time."
Hopkins finds the participation a fulfilling experience. Seeing people gather and discuss confirms her faith in the fact that people enjoy working at the university because they believe in the power of continued learning — even the kind of learning that happens over a lunch break.
"There was a lot of conversation for the limited one-hour time slot we scheduled," she said. "And it could have continued had it not been for the clock," she admitted, adding that the entire group recognized the power of words.
"Every culture, in fact, every subculture and often individuals within them, is constantly creating new words and retiring the old ones. Just ask the parent of any teenager," she laughed.
Creating something new as a means of putting it to work is more than a talking point referencing book club conversations — as interesting as those turned out to be.
It is, in fact, the way the A&M-Central Texas University Library has evolved in the past 15 years.
"With 30 undergraduate-degree programs and 19 graduate-degree programs, we stay busy making sure that our students and faculty have access to everything they need to be engaged in their learning outside the classroom," explained Bridgit McCafferty, dean of university library and archives.
But she also added that university librarians also cherish those parts of their jobs that allow them to expand into the more non-traditional — but still relevant — areas.
For example, librarian Margaret Dawson engages in a full slate of outreach activities. Victoria Eastes, the university library archivist, manages more than a half dozen military history and political collections as well as a collection of artifacts related to the university's history.
Dawn Harris is well known in the community for her work exploring the area's local histories, and Michelle Shea organizes tutoring in partnership with local school districts and summer STEM camps. Finally, Kelly Williams enthusiastically creates and posts "how to" videos using a GoPro camera.
McCafferty is justifiably proud of the entire library staff, pointing out that everyone there is passionate about the place that books — and all the library's related services — have in the community's everyday lives.
"I tell people all the time what wonderful employees I have," she said proudly. "The truth is that all of our successes are due to the good work of my staff and faculty and the dedication and care they show for the community we serve."