By Karen Clos
February 7, 2023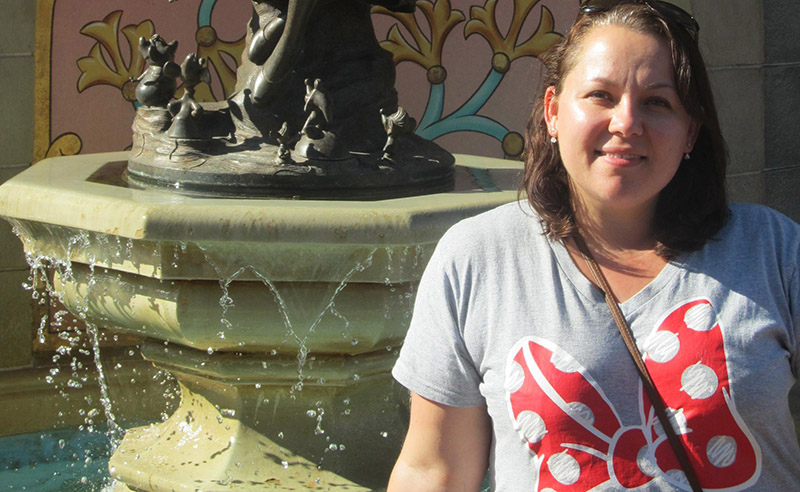 Just six months ago, Laura Dooley, 40, Ft. Hood resident, military spouse, and mom, packed her family SUV and took a trip she never imagined she would have the chance to take.
On an average workday, the majority of her travel consisted of going in between the military housing at Fort Hood and A&M-Central Texas where she was both an undergraduate student and a research assistant in the Division of Research, Economic Development, and Innovation.
She had begun her journey toward her undergraduate degree at Central Texas College, transferring to the University, focusing on class completion and, someday, graduation.
It didn't occur to her then that she might have something special in store for her – something unpredictable that would appear as if by magic.
A planner by nature, Dooley's life ran on schedules: one for herself, one for her husband, and one for her daughter. Her husband, Christopher, 39, a U.S. Army 19K armor crewman, was deployed, and her 12-year-old daughter, Lynn, enrolled in middle school.
There was more than enough on her plate, she said, to even think about anything but school. The most important thing was tending to her studies, her family, and her community.
That is the way of life for many people – quietly and unassumingly moving forward toward a goal without the slightest inclination that the universe was about to do something extraordinary whether she knew it or not.
Anyone the least bit familiar with all things Disney can attest to the fact that, not always, but sometimes, a whole lot of wonderful and unexpected things can sprout even from the most predictable circumstances.
And what was just over the horizon for Dooley would arrive in exactly the way things that are fated sometimes do: part synchronicity and part serendipity, an opportunity she couldn't see coming would sneak in on silent little cat feet and work its magic on her otherwise routine life.
Like every other university student on the planet, Dooley received regular emails. While browsing through a too-full inbox one day, she was about to delete a message from the University's Office of Career and Professional Development. But she paused when she saw one word: Disney.
Full disclosure demands that Dooley's description of herself as a 'Disney fan' probably merits a little examination. Like so many other kids, she grew up with Disney. She struggled with reading, but she learned to recognize words when her mother gave her the book with a cassette tape and player.
"I would hold that book in my lap and follow the words by listening along to the tape," she said, her olive-colored eyes reflecting a long-cherished memory. "After that, I knew all the songs, all the other stories, and every character."
When she grew older, her Grandmother Jane took her to Disneyland in California. There, she says, she was overwhelmed by the performers, the castles, the place itself a reincarnation of everything she had imagined in her child's mind. She saw everything. Every ride. Every performance. Every character she had ever read about.
"I met Donald Duck and even got an autograph," she laughed. "I was in kid heaven."
As life does, one day leads to the next. The years passed, and Dooley had graduated high school, married, and had a daughter. Her husband was sent on multiple deployments. When he was home, she says, he'd recruit her over to – well – "the dark side."
"He has always been a gigantic Star Wars fan," she confessed. "The only day that he ever skipped school was to go see the first showing of The Phantom Menace. So, when he decided to make a Star Wars fan out of me, I really didn't stand a chance."
In no time, she remembers, they had watched the entire series of movies from one end to the other, and it was official. They both enjoyed fantasy worlds, and together, they indulged each other, thinking the biggest manifestation of their mutual obsession would be evidenced by their purchase of the coveted 2017 Nissan Rogue, Star Wars edition.
It wasn't as fast as the Millennium Falcon, as impressive as the X-wing Starfighter, or as sleek and dangerous as the Executor Class Super Star Destroyer, but it was theirs. From front to back, it was midnight black with black powder coated rims and adorned with the Rogue I brand and Star Wars insignia. Even the cupholders and the floor mats boasted the First Order symbols.
And in August of 2022, Dooley was on her own version of a deployment – this one the academic kind. She had been selected by Disney as the third A&M-Central Texas student to be a summer intern at Disney World in Florida.
It was this mom's nontraditional minivan that was loaded with her suitcases, a three-day road trip supply of Cherry Dr. Pepper, a few large bags of popcorn, candy, an assortment of COMBOS Cheddar Cheese Pretzel Baked Snacks – all recently purchased from the Ft. Hood Commissary.
Because no trip of this nature could possibly be initiated without a proper good luck charm, Dooley was also accompanied by a six-inch stuffed Star Wars character called a Porg: described by fans as a small, flat-nuzzled avian known for flocking in the rocky cliffs of Luke Skywalker's secluded island.
She arrived at the interns' residence at Buena Vista, Florida in just three days. And she was, at first, overwhelmed with the luxury of it all.
"The interns live in Flamingo Crossing," she explained, beaming relentlessly. "It is a huge neighborhood on the resort property, and it has everything an intern could possibly want. We had shared living quarters, pools, a world class gym, firepits, hammocks, and meeting spaces for professional development."
The facilities, as grand as they were, were nothing compared to the experiences she would have, she said. Disney executives opened their doors to them, and welcoming networking opportunities and accessibility.
They were not there just to hob-nob, she said. Once oriented, interns were outfitted in Disney polos, khakis, and tennis shoes, and put to work all over the park. She was to be a part of the team that greeted guests. Sometimes in one of many tollbooths at the entry way and sometimes on a gigantic plot of acreage where visitors would park.
Location and title aside, she knew what her job was. She would leverage her opportunities to interact with guests, charged with the duty of providing, or at least contributing to, a magical experience, never expecting that, in the weeks ahead, that same experience would unexpectedly come to her.
"My typical day was never really typical," she said. "There were performances every night and they were spectacular, a full-fledged, all-out entertainment cornucopia punctuated by fireworks set to music. And it wasn't just one performance in one venue. They were happening in every area of the park."
"When guests drove in, we could offer them 'magical moments,'" she continued happily. "That means if I saw a car filled with kids, or if the parents seemed like they'd appreciate a surprise, I offered them free parking as an extra perk. It's remarkable how something so small can make such a big difference."
But it was not all fun and games. During Hurricane Ian, Florida residents who previously lived on the shoreline of the state, relocated to Disney World for refuge. The park, she explained, has its own power grid and medical facilities.
Another time, she remembered working the departures area where families attempt to reunite at the end of their day. There, she would sooth worn out flocks of children, help disoriented families get to their cars, or sometimes take on a dead battery or a flat tire.
"I remember seeing a dad carrying his toddler daughter," she said. "Her little head was nestled just below her dad's chin, and one of her little pink crocs was just barely dangling on her foot."
"I caught up with them and held up one finger to my lips as I adjusted the little Croc, so that it wouldn't get lost and she wouldn't wake up," she continued. "Funny thing is how gratifying those little things are, but at Disney, the experience is built on lots and lots of those 'little things.'"
In her last few weeks there, the training, work experiences, and life lived among both her childhood fantasies and adult movie heroes all culminated on an otherwise indistinct evening. She didn't know it yet, but while she had spent eight weeks that summer bringing the magic of Disney to its guests, fate was lining up to return the favor and bring the magic of the park to her.
One night, she was, as usual, staffing the departure section. It was about 10:30 p.m., and she was exhausted. Not the weary kind of tired. The kind of tired that feels like a reward for a job well done. She was situated, she says, in between a section of the park called The Spires of Galaxy's Edge and a fireworks display set to music.
Admiring the show, she could see the spires, she said, and hear the corresponding music echoing a Star Wars soundtrack. In that moment, she says, she couldn't help but wonder if this moment was "the moment" – when so many of the things she had loved as a child and then as an adult – were surrounding her in gratitude.
"I don't think that I will ever forget that moment," she said. "I mean I had spent practically every evening in pretty much that same place, but I was always distracted with this or that. On that night, I wasn't busy. I was just standing there appreciating where I was, what I was doing, and the spontaneous beauty of it all."
It isn't often that life imitates art. And it is even more rare when a silent wish is granted, unanticipated, and like an answer to an unspoken wish. This, she would tell anyone who asked, is the magic of Disney. And a little bit like the lyrics of an old Disney song.
Too grown to remember the lyrics of Disney's "When You Wish Upon a Star?" Perhaps. But then again, perhaps not.
Because, as the song goes, when you wish upon a star, it makes no difference who you are. Anything your heart desires will come to you. If your heart is in your dream, no request is too extreme. When you wish upon a star, as dreamers do, like a bolt out of the blue, fate steps in and sees you through. When you wish upon a star, your dreams come true.
Internship completed and the Spring 2023 underway, yet another dream is about to come true for Dooley this May when, if the fates allow, she graduates from A&M-Central Texas with, no doubt, pixie dust in her pocket.