By Dr. Karen Clos
December 21, 2022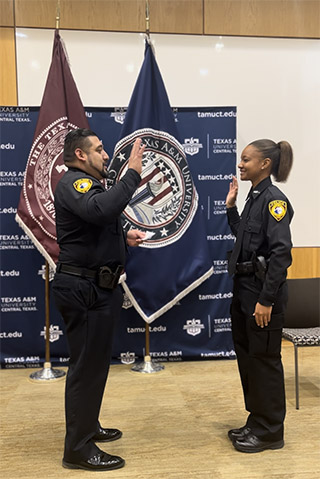 Killeen resident Joeliqua Williams is only 23 years old, and she is already well on her way in a career that she loves as a Police Officer I with the A&M-Central Texas University Police Department.
She is slightly built, standing at 5'5, but there is nothing slight about her countenance. A former athlete, Williams is justifiably proud of her capacity for meeting both the physical and intellectual aspects of her current profession – and even she admits it has been a whirlwind of goal setting, next steps, and, finally, achievement.
"I have never been the kind of person to draw attention to myself," she admitted shyly. "But I have never been the kind of person who doesn't reach the goals they set for themselves, either. I probably didn't think it at the time, but now that I'm here, it seems like it happened really quickly."
If it did, it may be to her own credit. As a young girl, she says, she enjoyed watching both her dad and her brother play basketball, so once in high school, she tried out and made the junior varsity basketball team, refusing to let her petite stance or her uncertainty about her own talent keep her from competition as both a point guard and shooting guard.
At Ellison High School, she was focused on academics, graduating in 2017 in the top 10% of her class. That summer, when others were taking a break from school, she signed up for classes at Central Texas College.
She wasn't sure at first, she explained, what she wanted to do. She believed in making a positive impact on the community and the people in it. At first, she thought about pre-med, eventually trying out the EMT program, but decided to complete the general education core needed to enter the social work program at A&M-Central Texas.
In her first semester of coursework, she had signed up for a criminal justice class, and the rest, she says, was history.
"When I look back at that experience, I'm very grateful for being so inspired and just knowing that I had found my path," she said. "I knew right then and there that I would put on a police uniform someday."
As a part of her coursework, she had completed a field internship in the University Police Department and followed up on that experience, applying for and becoming a part-time security officer. By May 2022, she had completed her undergraduate degree in criminal justice with honors.
It is not uncommon after such a significant milestone that graduates take a well-deserved break. But Williams? She had other plans.
Before the celebratory graduation balloons had lost their lift or the last of the confetti had been swept up, she returned to Central Texas College, enrolling in the Basic Peace Officer Course, determined to graduate in the top of her class as a certified peace officer.
She would never describe that training as easy, she said, flashing a smile and a slight tilt of her head as she spoke. A member of Delta Class, she knew all too well what she was going to be asked to do: master the practical elements like defensive tactics, firearms, traffic stops, building clearings, and the physical tests that would follow.
"We had an hour at the end of the day to go to the gym," she explained. "But no one had to tell us to go. We all knew what we were in for."
As it turns out, she had begun training months before she had ever enrolled, picking up where she had once been all those years ago in high school basketball. Only this time, she was readying herself for higher stakes.
"Each of us had to hold a plank for what felt like forever," she said. "Then do a 2,000-meter row, a 1.5-mile run, and pushups. So, I definitely felt it. But I also like the feeling of accomplishment when I train and do something that pushes me to be disciplined."
Anyone who ever tried, failed, or even attempted one plank might find themselves reflexively grimacing at the very memory of it. Somehow, Williams – who, in fact, had mastered it when it mattered – dismisses that accomplishment, and chides herself for not ranking higher in her graduating class.
"I wanted to graduate first in my class, and I ranked third," she said, echoing the inner drill sergeant obviously lingering in her internal conversation with herself even now.
"I was seriously proud of the people ranked first and second," she laughed. "But I was seriously mad at myself for not beating them. That is not weird, is it?"
The source, perhaps, were the examples she has followed since childhood. Her parents, she says, have lived their lives in service. Her father, Frankie, was a U.S. Army Sergeant First Class and a field artillery soldier, retiring after 24 years. Her mother, Darleen, also in the U.S. Army and an E4 Specialist, had been a personnel administrative specialist, honorably discharged after almost a decade. Both are veterans of Desert Storm.
While it is true that Williams has been laser focused on a career in law enforcement, as it sometimes does, the universe was working in her favor – even if she was unaware of it.
She was doing her part and then some, but so was A&M-Central Texas Chief Andrew Flores. Only neither of them knew of each other at the time. Or how similar their individual paths into law enforcement had been.
Like Williams, Flores had attended the police academy completing his associate degree with Temple College. He learned about the University in its early days more than a decade ago, setting his sights on being a part-time University police officer.
He rose through the ranks becoming a full-time officer, corporal, accreditation manager, sergeant, and eventually, chief. Along the way, he earned both his undergraduate and graduate degree at the University. And he wanted to attract and recruit others with the understanding that service as a university police officer was a calling.
He knew the moment they first met that she was someone he wanted to recruit.
"Some people just light up from inside when you talk to them," Flores said. "She was like that then, and she is like that today. She has a command presence and carries herself with a calm and poise that you don't see in everyone. That, I think, comes from her absolute dedication not just to the job, but to our students, our staff, and our faculty. I couldn't be more grateful to be a part of our department."
On the same campus where she had taken her first steps toward a degree only three years ago, Williams was sworn in as a university police officer two Mondays ago.
Wearing her UPD dress blue uniform required for special occasions, she stepped forward in black patent leather shoes shined to a high mirror gloss, and raised her hand, surrounded by family, fellow officers, friends, and University staff.
Chief Flores, now a colleague and a boss, celebrated with her in recognition of her accomplishment, and also as proof positive that his inspiration to draw talent from the University's criminal justice program proved possible right in front of his eyes.
"It was a very proud and emotional moment," Williams concluded. "For so long, I had mixed feelings about what to do with my life. I had challenging moments in the academy, but I also had a lot of incredible people who took the journey with me, who have been there for me, and I now know that this is what I am meant to do."
Meant to do, she says, remembering the spark of her own interest which caught fire under the careful instruction of the A&M-Central Texas criminal justice faculty, and enhanced by what she had learned as an intern, a part-time security officer, an academy cadet, and now, as a certified peace officer.
"Chief Flores saw something in me that I had always hoped someone would see," she said. "He took the time to get to know me and talk to me as an intern and offered me the chance to go to the academy. To be able to stand side by side with him and take the oath of office was one of the best moments of my life."