By Bernadette Serna
June 5, 2023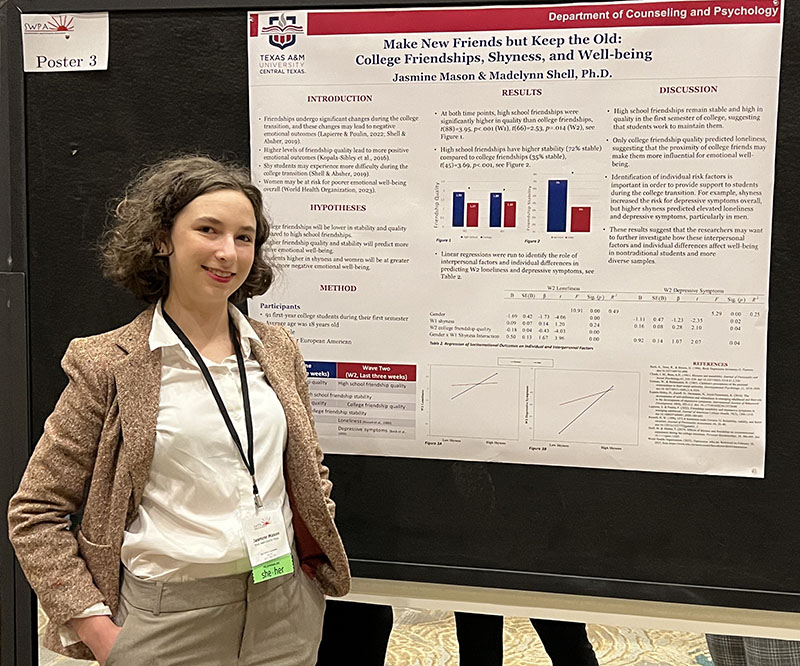 Jasmine Mason, a Salado, Texas resident and Texas A&M University–Central Texas senior, is paving her way with her research regarding college friendships, shyness, and well-being.
A simple email from Associate Professor of Psychology Dr. Madelynn Shell informing her students of research internships prompted Mason to quickly respond and begin her research journey as one of Shells' interns.
"I'm glad I jumped on the opportunity and just went for it. I had a habit of trying to wait until everything is perfect to get started with stuff, which has been a failing of mine and led to severe procrastination at times or not doing anything at all," Mason said. "It was beneficial for it to happen really quickly."
She credits Shell in providing her with the guidance and tools she needed to succeed throughout the research process, noting that she may not have had the same support at a larger university.
"I have been able to form closer relationships with the faculty here and I imagine it would be more daunting to approach faculty if you're one student out of thousands," Mason said.
Shell provided her research interns with a data set developed from her own research on which they could expand. She also instructed them on best practices to find and examine relevant articles to support their respective research and write about their findings.
"She pushed us to keep going and do our best. Like tough love. Dr. Shell said, 'I do this because I know you can do it and I care about you,'" Mason said.
Mason's research focuses on the emotional outcomes of transitioning to college and how friendships, shyness, and gender influence these outcomes. Something she has experienced herself as someone who is "plugged into" the A&M–Central Texas campus.
"I've tried to be active on campus, like working at Campus Rec and getting involved with the Psychology Club. It gets harder when your workload gets bigger but it's really good to be plugged in," she said. "I feel like my research has supported this because we found that higher quality college friendships predicted less loneliness, and I can see that."
Mason also learned that research is not a linear process like she once thought it was. She credits the process for obtaining many skills and strengthening others, like becoming a better writer.
Mason presented her research at this year's Texas Undergraduate Research Day and Southwestern Psychological Association Conference. These experiences also improved her public speaking skills and will help her post-graduation in her job search and life in general, she said.
"They say if you want to learn better you need to teach. I've definitely noticed that I've improved because I keep telling people what I am doing. I feel like my explanations have only gotten better," she said.
In whatever role Mason finds herself after graduation she plans on continuing research in some form. One of Mason's professors told her she caught what they call the "research bug." She agrees.
"There's something so pleasant about having questions, finding the answers, generating more questions, finding more answers and so on and so forth," Mason said. Mason was recently awarded A&M–Central Texas' Research and Innovation Undergraduate Student Scholarship Award. She is expected to graduate with a Bachelor of Science in Psychology August 2023.