By Bernadette Serna
February 27, 2023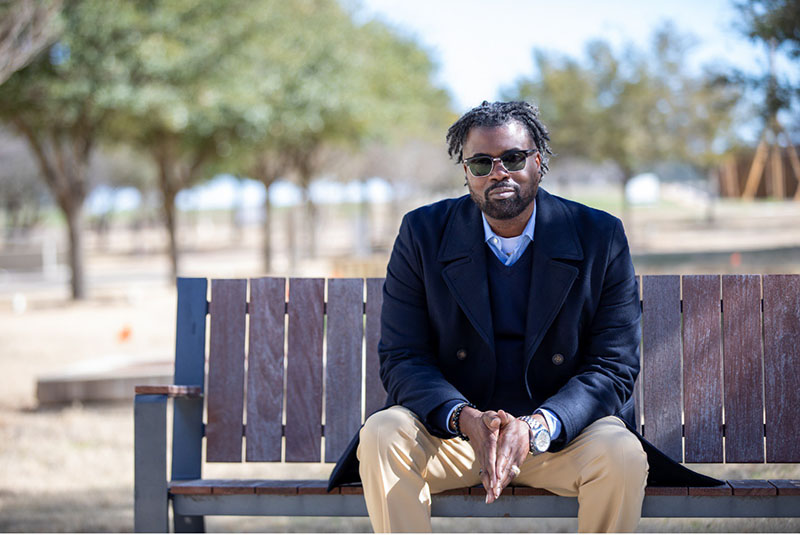 Assistant Professor of Accounting Dr. Anthony Fulmore
Assistant Professor of Accounting Dr. Anthony Fulmore's educational path is like that of many of his students. Fulmore, a military veteran, used his military benefits to pursue his education locally. He earned his associate's degree at Central Texas College, his bachelor's and first master's degrees at Tarleton State University, Central Texas, which then became Texas A&M University – Central Texas in 2009. This is one of the many reasons he can connect with his students so well.
"It helps me relate better. Not only did I go to a community college, I went to the community college that a good majority of them go to," Fulmore said. "Then I went to Tarleton State. I was taking classes in the portables over at Central Texas College campus when we didn't have a campus, and at Shoemaker High School. So, I understand the student journey here, which gives me a greater understanding of the process."
He also understands that a large population of A&M – Central Texas' students are nontraditional students. Many of them are parents or working a full-time job and juggling their studies.
"I always had to work. So, I call it the back-door way... Keep in mind, I'm a nontraditional student," he said referring to his education journey.
Fulmore's passion for education motivated him to keep learning even after completing his first master's degree. He earned an additional master's degree, a Ph.D. and most recently another doctorate degree.
His pursuit in education didn't began with the purpose to teach. The opportunity presented itself and he stepped into the role of instructor based out of the need of the community he was working with. At the time, he was working as an evaluator and advisor for the Texas Department of Criminal Justice's Rehabilitation Programs Division at Central Texas College.
"The director needed an instructor to teach one of their management classes. And I had a master's degree, so I took advantage of the opportunity, and I taught that one class and I loved it," Fulmore said.
He's been teaching every semester since then.
"I developed a passion for seeing that I was an aspiring student, motivating them to get their degree and finish their degree and get out and be more productive to society; take care of their family," he said.
Seeing his students persevere through adversity whether it's because they have been incarcerated or struggling with a concept is fulfilling for Fulmore.
"I'm looking at students walk across a stage and grab their degree and their family member is screaming their name in the crowd, just looking at how happy they are," he said. "And I was able to impart my knowledge that I have about the subject in them so that they can be successful on the job in the future."
For Fulmore teaching and job-readiness go hand in hand. One of the ways he helps students be successful is by providing them with resources explaining the many accounting certifications they can obtain, the experience requirements, and the cost.
"My goal is to help students become whoever they want to be — fulfill their purpose," he said.