By Karen Clos
February 17, 2023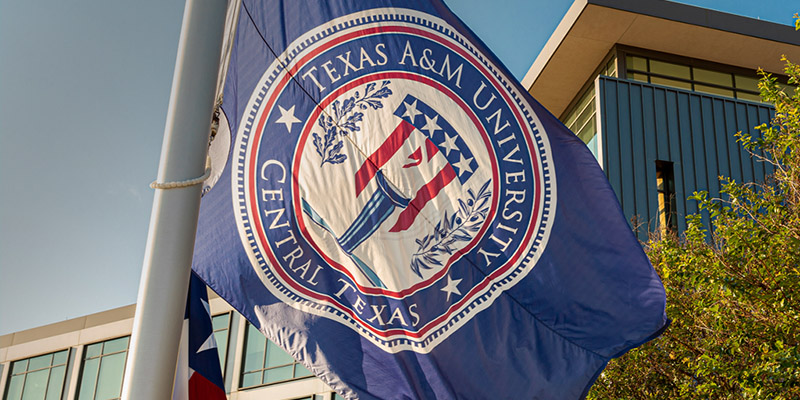 Enrollment in the A&M-Central Texas Graduate School and its programs has grown by double digits in the Spring 2023 Semester. Associate Provost and Dean of the Graduate School, Dr. Kellie Cude, believes that it may be the result of changes to the application process.
"We made changes that made it easier for our undergraduate students to continue here for their graduate education," Cude said. "And for those not currently enrolled as one of our students, we designed an admissions option that allows them to apply for admission on a 'test-optional' basis."
In the past, Cude said, a potential graduate student who did not have a 3.0 GPA or higher, could not start any program without the Graduate Records Examination (GRE) or the Graduate Management Admissions Test (GMAT). And, while applicants who have test scores to submit can still use them for admissions, all applicants also have the option to apply for admission with a "test-optional" admission status.
"We fully appreciate that entrance exams are a part of the traditional application process," Cude offered. "But we also believe that an individual's capacity for success in a graduate program should not be measured by tests alone. Many of our students are returning to school after a long hiatus, but with rich experiences to draw upon."
So, under this 'test-optional' process, students apply for conditional admission, attending up to 12 semester credit hours in their program of choice, and if they maintain a 3.0 GPA, they may receive full admission.
Cude says that graduate programs that are service-oriented seem to be seeing the biggest gains in enrollment, including criminal justice in the College of Arts and Sciences; counseling and psychology, educational leadership, and teacher education in the College of Education and Human Development, and accounting in the College of Business Administration.
"Years before A&M-Central Texas was officially open, community members and leaders in business, education, and social services encouraged us to be a different kind of university," Cude shared.
"They asked us to balance the inherent prestige of a degree from one of the Texas A&M University System regional universities with accessibility and affordability for those who would not have the chance to get a degree otherwise," she said.
"When I see enrollment increases like these, I know we are living up to one of our most important commitments, and I would encourage those who have considered graduate school to visit our website or come to campus for a visit."
Graduate school admissions are accepted year-round, and A&M-Central Texas offers 20 graduate programs, with instruction provided face-to-face, fully online, or in hybrid formats, depending on the program.