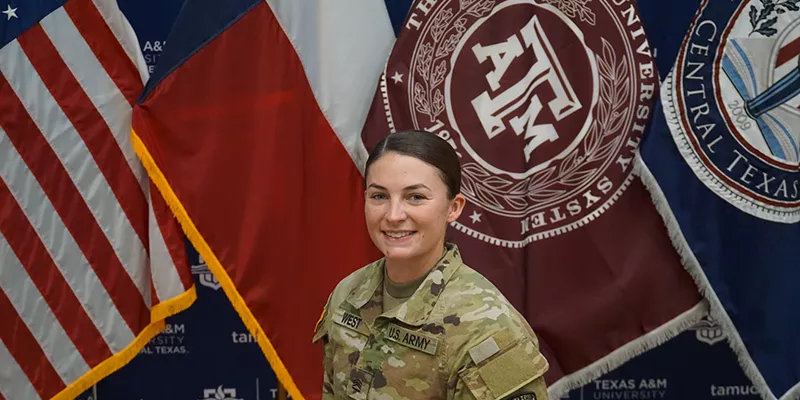 The streets of downtown Pelham, Georgia, are lined with statuesque pecan trees, manicured neighborhood lawns, historic buildings, a chamber of commerce, a Piggly Wiggly, a half dozen or so restaurants, a pharmacy, and, because no town is complete without at least one, a honkytonk named Sylvia's Bar, and a café aptly called Southern Sass.
Here, there are no traffic jams to speak of, except the kind that happen when neighbors out for a stroll recognize a friend and pause to chat before going about their daily routine.
Further out of town, the countryside resembles an endless agricultural quilt laid out on top the earth, as acres and acres of rows of crops crisscross the countryside like seams plowed into the earth.
Lauren West, 23, grew up in this place, one of five children in a blended family, raised on the family farm with as many animal friends as human ones.
She remembers her childhood fondly — her parents, state trooper, William West, and high school teacher, Angie Everson, raised their family of five children alongside the rows of cotton, corn, and peanuts.
"There were animals of almost every kind on that farm," West said. "I was riding horses before I could walk."
By the time she was a teen, West was competing in rodeo events, eventually focusing on barrel racing. She remembers galloping into the rodeo ring at full speed, weaving precisely through the cloverleaf patternof stations bounded by three 55-gallon drums, fluidly thrusting her petite but well-toned body into the seat of the saddle often tilted at a death-defying 45-degree angle, so close to the dirt, she could inhale the dust.
Over the years, she says, she collected her fair share of recognition, earning medals, cash prizes, competition trophies, and her favorite, a custom-made trophy belt buckle.
While her rodeo competition days may be behind her, West hasn't lost her competitive spirit. The same skill, focus, and grit she used inside the arena, is leveraged toward a new goal: becoming a commissioned officer in the U.S. Army.
After graduating from high school in 2018, West attended Valdosta State University for one year, and while she did well, her mind kept returning to the possibility of military service. She just could not have imagined in those moments how fate might intervene in ways that would bring her right to the realization of that goal.
While still enrolled at Valdosta State, West met the woman who would become her future partner: Staff Sgt. Samantha Lamirand, who had been in training at Fort Benning.
Months later, as their relationship developed, Lamirand received orders to report to Fort Hood, and the couple maintained a long-distance relationship. West — who had never laid eyes on Central Texas — visited as often as she could, taking in its culture, its communities, and its many cuisines.
West admits that the similarities between her home in Georgia and her new home in Central Texas have replaced any sense of homesickness she might have expected.
"Obviously, Texas is not Georgia," she laughed. "And I couldn't call either place my home if I ever said it was. But there are a lot of similarities that really resonated with me."
By 2019, West and Lamirand had settled into a house in Harker Heights with their 10-year-old yorkie, Levi. And West, who had not surrendered her desire to enter military service, decided she was in the right place at the right time to do something about it.
She enrolled in Central Texas College, making an appointment to meet with the ROTC recruiter and military science instructor, Richard Heathman. Within two years, she had earned a near perfect 3.9 GPA taking the core courses needed to transfer to Texas A&M University-Central Texas. And that success was only made sweeter when she enrolled as a cadet in the University's ROTC program.
"When I stop to think about what I am doing now, I almost have to pinch myself," she said. "It's not every day that you hear people say that they are living their dream, but I am. I will never forget what a privilege it is."
Now in her second year at the University, West's days and nights are filled to the brim with scheduled physical training, a full-time course load in criminal justice, a part time job, never-ending military leadership training, and her obligations to her cadet colleagues and ROTC mentors.
Maj. Kyle Surridge applauds the cadets in the program for their discipline, describing their training regimen with same stoicism typically reserved for boxing coaches and military leaders.
"They each have personal training goals, and we have goals as a unit," he explained. "And they are held accountable for them, required to demonstrate fitness according to the Army's expectations. If they don't make them, they don't make it. And if they don't make it, the program doesn't make it, so they all understand the importance of the mission that requires discipline. Period."
For example, he says, cadets routinely gather before the break of dawn, assemble in the A&M-Central Texas parking lot, fall into formation, and commence their physical fitness routine.
On other occasions, their physical activities include completing timed exercises on an 11-station obstacle course, navigating a series of three climbing walls, a 25-foot rope climb, two sets of rising inverted monkey bars, a balance beam, and X-shaped pull up bars – all in whatever elements the Central Texas weather might challenge them with that day.
Sometimes, just for good measure, cadets complete a "foot march" which is exactly as rigorous as it sounds. They pack a military grade ruck sack with the same supplies they are expected to carry in military exercises and sling each one– now weighing an average of 35 pounds – across their individual shoulders, and set off in formation to Bald Knob, a strenuous 2.5 mile running hike into acreage that surrounds the 672-acre A&M-Central Texas campus.
This summer, West was one of 30-plus A&M-Central Texas ROTC cadets who took part in Cadet Summer Training at Fort Knox, Kentucky where they immersed themselves in infantry tactics, strategy training, and in field operations.
West applauded her fellow cadets who also made the trip, adding that she was incredibly proud to train with them, not just this summer, but every day.
"We work so well together," she said. "We draw on each other's strengths and rely on each other for leadership and camaraderie."
Everything she has done, she continued, and everything she is yet to do will make her a second lieutenant who not just looks to others to command, but who embraces her leadership role as a way of being in service to others.
"The biggest obligation a leader has – whether it's a leader who's still a cadet or a leader who's commissioned – is merging the needs of the chain of command with the needs of the people you are serving with," she wisely observed.
"In this program, I have learned a lot about myself," she added. "There's no doubt anymore that women can serve with distinction in a military capacity. But I have also learned that leadership is about supporting those who are in my command and being an example to them. If I can accomplish those things throughout my career, I'll be happy."