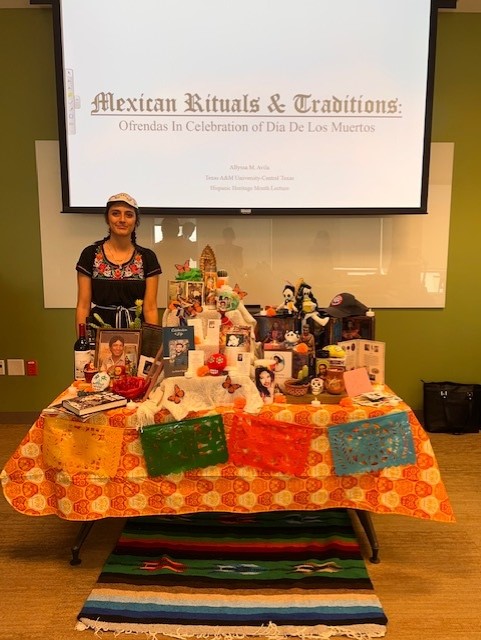 Allyssa Michelle Avila, 32, is composed, articulate, and insightful, speaking deliberately about what motivated her most recent creative endeavor.
Her project, she says, did not happen the way some inspired events do; it was not a 'big idea' or even an academic assignment. It was, she says, something more routine than that. And it is a good feeling, she says, to think that inspired things can spring forth out of her everyday life as a student.
"I received an email from Sandra Desjardins, an A&M-Central Texas Hispanic Heritage Month Lecture Series Coordinator and also a librarian specialist," Avila explained. "They were reaching out to everyone to ask if anyone had an idea that they could share during the University's Hispanic Heritage Month.
The synchronicity of things that came together to inspire her to respond to the email had already begun unfolding as the seasons began to change, she noted.
She had already begun to prepare a place in her home to celebrate "Dia de los Muertos," a day set aside to remembering loved ones who have passed on. For her, it was a way to pay tribute to Georgie, her beloved and recently departed Tibetan Shih tzu, who she described lovingly as "an Ewok with an overbite."
The thought of celebrating his life, she said, somehow eased the grief of his loss, and she had already picked a place in her grandparents' home to create an "ofrenda."
"The "ofrenda" is a sacred space decorated to memorialize and remember our loved ones," she explained. "It is central to Dia de los Muertos as a way to symbolize and celebrate their memory."
As she thought about it, she says, she realized that her own plans could be meaningful on a larger scale. What if, she wondered, there were others who had experienced recent loss? There probably were. Loss happens every day.
That email invitation had set her mind in motion. What if she could introduce an "ofrenda' at the University – a place where those who wanted could remember a loved one?
And, because she had always been interested in the cultural nuances that exist in the way different Hispanic cultures celebrate the day, she wondered if it might be interesting to research and discuss those things as a part of the Hispanic Heritage Month Lecture Series. She responded to the email, outlining her idea, half expecting not to hear from anyone. But what she might have considered is that when fate steps in to make a way, brilliant things can happen.
In no time at all, not only did she hear from the committee chair, but they were working together to find a space at the University where she could setup a table, decorate it, and invite students, staff, and faculty to visit. And they did.
Avila's "ofrenda" found its home in the Beck Family Heritage Hall lobby, festooned with brightly colored pennants, photographs, candles, painted skulls, treasured trinkets, memorabilia, and religious iconography.
Even as it was admired by the University community, she was not yet finished – well, not completely finished, anyway. She had become fascinated with the way the day was celebrated, noting that while many "ofrendas" include some thematic elements that are common, not all Hispanic peoples interpret those elements the same way.
Speaking to a group of attendees at the recent Hispanic Heritage Month Lecture Series, Avila presented a scholarly analysis of the uses and meanings of the practice, bringing forward the skills she had developed as both a substitute teacher and an A&M-Central Texas student.
"It is a very different holiday from the mainstream version of Halloween," she said. "And even among the many Hispanic cultures, the way it is celebrated varies. For example, symbols of life are included on many "ofrendas," including fire, water, wind, and earth. But depending on the cultural origins, those symbols can all have different meanings. And it was important to her to talk about that."
Avila acknowledges that the learning opportunities she has as a student are guiding her as she pursues the completion of her educational goals and her current profession.
Now a substitute teacher for KISD, she is majoring in psychology and looking forward to completing her undergraduate degree this December, then pursuing the alternative certification needed to become a classroom teacher. After that, she adds, she intends to purse a graduate degree in school psychology.
Propelling her forward is the fact that she is the only one in her immediate family who will have an undergraduate degree. And there is something even larger, she says. Something that occurred to her after she had time to reflect on the creation of the "ofrenda" and present her research on its significance.
"It was a powerful reminder of who I am and where I have come from and all those who came before me," she said. "I was happy to make my abuelos proud, and I definitely feel the spirit of my loved ones rooting me on."