Bernadette Serna
November 15, 2023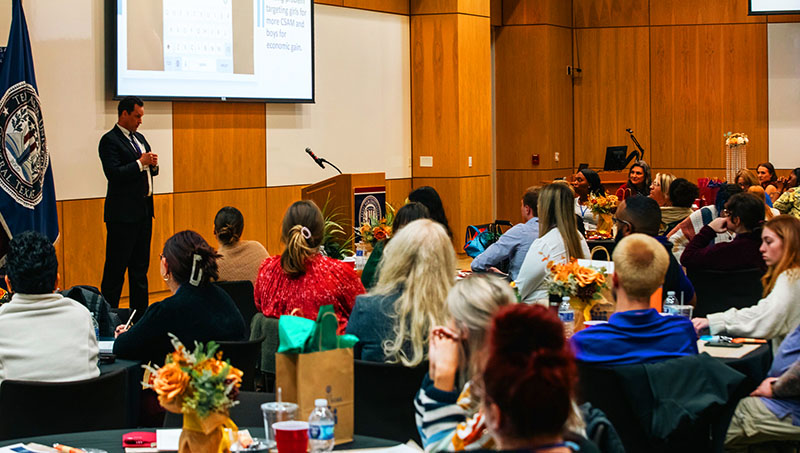 The Department of Social Work and the Title IV-E program at Texas A&M University–Central Texas hosted "Empowering The Youth Voice in Case Planning," the 4th Annual Child Welfare Conference, Friday, Nov. 3, 2023.

Students, community partners, foster and adoptive families, current case and social workers, and other professionals attended the event and sat in on thoughtfully designed sessions regarding, preparing foster youth for post foster care life, human trafficking, court jurisdiction and venues in adoption petitions, and collaborative responses for child abuse.

For students like University of Mary Hardin Baylor social work student Windy Hernandez the exposure to a professional conference in her field of study was invaluable not only because of the information shared but because of the networking.

"This is my first professional conference and I'm taking a research class, so this is good practice speaking to people about my research project," Hernandez said.

Her research focuses on strategies churches use to help Latinx immigrants overcome barriers and transition to becoming citizens.

"The second speaker is from El Paso and I'm from Laredo, so we are both from border towns. I told her about my project, and she gave me her business card and was able to refer me to some sources," Hernandez said.

A&M–Central Texas' Phi Alpha Phi chapter President Laura Montero said the conference gave her the opportunity to exchange information with students from different universities, an opportunity she may not have had otherwise.

Making professional connections and building a community were also Jo Harrison's motivation to attend. Harrison, a Killeen native is a therapist and owner of Restorative Hope Sanctuary, a Christian-based mental health and wellness center, with offices in Killeen and Lampasas.

"The networking is major. I've already talked to another counselor that's in the area that doesn't have as many of the things that she needs to form some groups, so these events are good to partner with other counselors in the in the area," she said.

Not only did attendees have networking opportunities, but they also gained valuable insight through presentations led by field experts, like Assistant Attorney General Brody Burks of the Office of the Attorney General of Texas who spoke about the interagency collaboration needed to address human trafficking.