By Bernadette Serna
February 10, 2023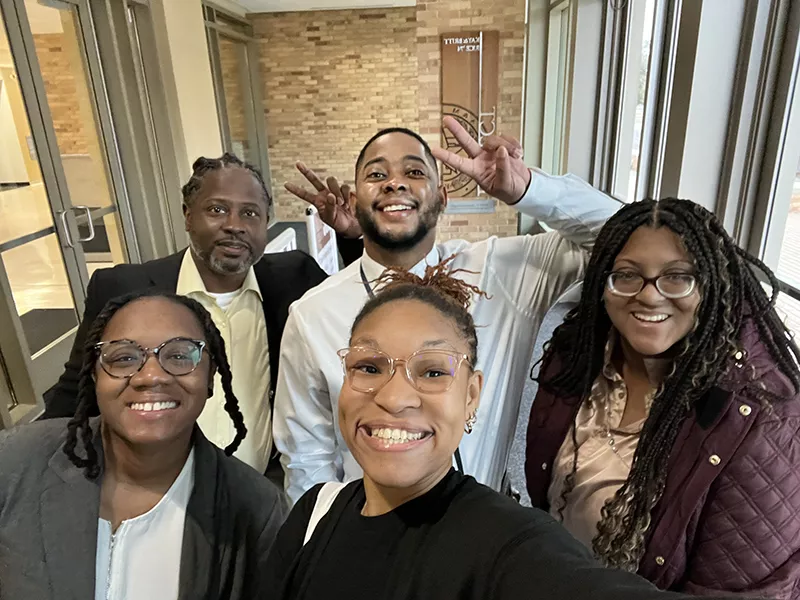 Front row (L,R): Leanah Shabazz, Saquoi Dreckette, Brittany Graham.
Back row (L,R): Rogers Davis, Joshua Skinner
February is nationally dedicated as Black History Month. The month was established to focus attention on and celebrate the contributions and accomplishments of African Americans in the United States.
Texas A&M University – Central Texas' Black Student Union (BSU) will be hosting a talent showcase, "Shine On Us" at 6 p.m., Friday, Feb. 24, on campus. The event will celebrate Black History Month in a way the university has never experienced.
BSU Vice President Saquoi Dreckette hopes the event will give the organization more exposure and prove that there is more than meets the eye when it comes to TAMUCT students, especially now that more students are on campus and becoming more involved in the campus community.
"I hope that they see us, honestly. That they see that we are here. We are on this campus and see there is a community beyond us," Dreckette said of the community. "We are more than what we look like and what's on paper."
Dreckette explained that the organization gained inspiration for the event by attending the Southwestern Black Student Leadership Conference in January of this year at Texas A&M University at College Station.
"We attended different workshops of how to be better Black leaders and how to lead positively and enact change at the campus level. We took all those things and applied them to our showcase," she said.
The conference allowed TAMUCT's BSU to establish relationships with organizations at other universities like Texas A&M University – Commerce and Prairie View A&M University. These types of relationships are important for young organizations like the BSU to look to more established entities and gain guidance Dreckette said.
TAMUCT's BSU was established in 2019 but the pandemic slowed its growth. Now that more students are on campus, the group is looking for more members who share the same intentions.
"The Black Student Union is open to everybody. Our main focus is that black students here on campus feel at home," Dreckette said. "Our organization is to encourage Black students on campus and spread awareness."
The organization's university advisor Brittany Graham added that the BSU strives to become an active part of university life.
"We are looking for partnerships with other student orgs. In working with them, we want to see what issues are present at the university that aren't being addressed," Graham said. "We want to be involved in that, like I said with partnership and collaboration to foster real change."
Graham recognized that although the organization is in the beginning stages of building its membership, TAMUCT students should be encouraged to work together.
"I want them to know that it's going to foster a community of collaboration. It's not about the separation or just for black students," Graham said. "It's really to bridge the gap and possibly create more avenues for other underserved students as well to form a group to hopefully create a multicultural organization within the university."
Entry to the showcase is free and there will be opportunities to win a raffle.
Attendees can look forward to seeing the campus come together to showcase a variety of talents, including a special dance performance by BSU President Leanah Shabazz.
Vendors and those who wish to share their talent can still sign up to participate in the showcase.
More information about the showcase and TAMUCT's Black Student Union here: https://tamuct.campuslabs.com/engage/organization/blackstudentunion