By Karen Clos
July 7, 2023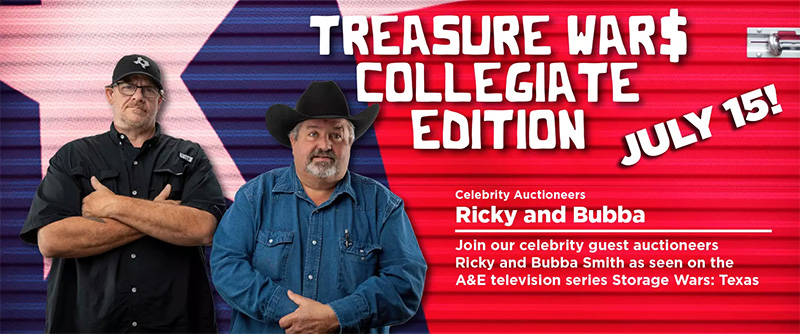 Tickets for the event are $25. For more information
visit https://www.tamuct.edu/treasurewars
Ten days before the A&M-Central Texas Treasure Wars: Collegiate Edition fundraiser, Kathleen McDonald is busier than ever, wrapping up the details that go into making a successful event. And she has two newly sponsored auction items up for bid she's sure Central Texas will recognize.
"Our sponsors have really stepped up in a big way to support this event, and we are extremely grateful to each and every one of them," she said.
Great auction items from great sponsors!
The newest additions to the ever-growing list of auction items now include an evening with Chip and Joanna Gaines at an upcoming Silobration in Waco sponsored by American Veterans Mission and two pairs of box seats sponsored by iHeartMedia to see Lainey Wilson in concert on Friday, September 22 at the Round Rock Amphitheater, and each includes an autographed CD of Wilson's newest CD, "Bell Bottom Country."
Other items include:
Two pairs of tickets to see Country Music Award 2022's Female Vocalist of the Year and New Artist of the Year Lainey Wilson live in concert at the Round Rock Amphitheatre
An "H-E-B Grill and Chill" package, with a Char-Griller 4-Burner Flat Iron Gas Griddle, cooler and grill accessories
An "Isn't She Lovely" treasure box of purses by Michael Kors
A Craftsman treasure box including the 20-volt Max Power 6-piece Tool Combo and workbench
A "Classy Classic" treasure box featuring Kate Spade purse, wallet, necklace and more
A family outdoor dining treasure box, featuring a 6-piece dining set, umbrella and stand, and outdoor-dining accessories
A "Pretty in Pink" treasure box with Coach purse, wallet, notebook and box, plus Kendra Scott earrings and necklace
A&E television series "Storage Wars: Texas" stars Ricky and Bubba Smith are the guest celebrity auction team highlighting the evening's festivities to benefit the Eagle Warrior Scholarship, Saturday, July 15, at 4 p.m.
The Eagle Warrior Scholarship, a joint effort between A&M-Central Texas and Central Texas College more than 10 years ago, funds tuition and fees for eligible full-time students demonstrating financial need and following an established transfer pathway between the two schools.
"Our goal is to sell 200 tickets for this event," McDonald said. "And there's been a lot of excitement around this auction because Ricky and Bubba are going to be so entertaining. But we are excited to remind folks who are fans of Chip and Joanna Gaines or Laney Wilson to grab up some tickets and join us."
Current sponsors include two signature sponsors: The Beck Family Foundation and JoAnn Purser Homes. Other sponsors include Perry Office Plus, H.E.B., Central Texas College, American Veterans Mission, Bell County Motorworks, Crafter's Convention, First Heroes National Bank, Bella Vita Med Spa, Lott, Vernon & Co. P.C. CPAs, Centex Technologies, The Smile Doctors, and Peter Beronio Wealth Planning.
Tickets for the event are $25, and potential sponsors may reach out to McDonald for more information or visit the link at https://www.tamuct.edu/treasurewars