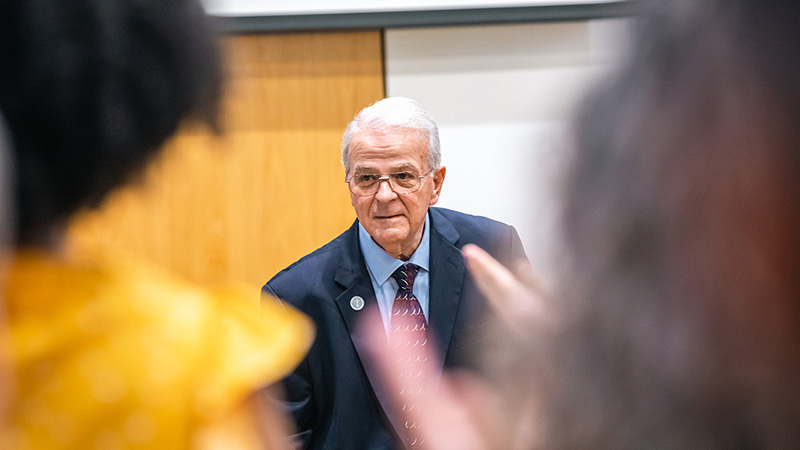 Texas A&M University–Central Texas President Dr. Marc Nigliazzo gets a standing ovation from university employees after his remarks at convocation Thursday morning. Nigliazzo is retiring after 13 years as the university's first president.
Faculty, staff and administration gathered for convocation at Texas A&M University–Central Texas Thursday morning to celebrate the new academic year and bid farewell to the university's inaugural president.
Marc Nigliazzo, Ph.D., A&M–Central Texas president since 2010, was a focal point of the morning meeting that centered around the state of the university as well as his retirement. Nigliazzo said his time at the university has been focused on the people.
"It's been about you," he said to packed room. "It's been about the students who come here."
Nigliazzo said A&M–Central Texas was founded on the idea of developing a university that could impact and transform the region, and judging from the students he shakes hands with each graduation, he feels the school is succeeding.
"Watch our students cross that [graduation] stage," Nigliazzo said. "Look at their ethnicity. Look at their age. Look at how many of them have children. Look at how many of them never imagined that college might even be possible for them. They come into this place, and they have been incredibly successful."
Nigliazzo expects A&M–Central Texas to continue to be successful, saying much of that future success is tied to the newly developed master plan. The comprehensive plan calls for additions to the campus, including student housing, academic and student-success buildings, and the continual development of the Forge research park.
"This [master plan] is based on thought," Nigliazzo said. "Where we are. Where we might be soon if all of this talk continues to evolve. It needs to continue to evolve."
A&M–Central Texas will break ground next spring on its newest building project, a 30,000 square foot facility that will house the university's central plant for heating and cooling systems, as well as the university police department, shipping and receiving facilities and training/classroom spaces. The new building was approved by the A&M System Board of Regents last week.
Convocation attendees also celebrated faculty promotions and awards, and learned about developments in research, innovation and student success initiatives.
Nigliazzo officially retires on Aug. 31 and Peg Gray-Vickrey, D.N.S., will step in as interim president for the month of September. Dr. Richard Rhodes, chancellor of the Austin Community College District, will take over as interim president in October.