By Karen Clos
June 28, 2023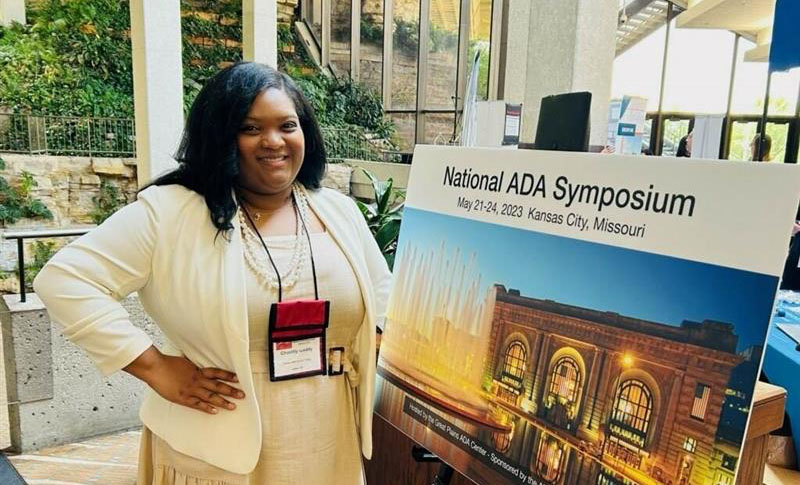 Chastity Gaddy, 32, is at the age where she is reaping the rewards of a life spent accumulating wisdom. Newly hired as the access and accommodations coordinator with student affairs at A&M-Central Texas, she has the look of a person who is exactly where she was meant to be, and her words are her testament to that truth.
"Being able to serve our students with disabilities and see them flourish and bring all of their innate talents forward to their dreams of a degree is so fulfilling," she said. "When I think about what I get to do on a day-to-day basis, and who I get to do it with and for, I'm filled with purpose."
Gaddy recently attended the National ADA Symposium in Kansas City, representing A&M-Central Texas, and presenting on the topic of how to encourage the development of ethics and multicultural competencies for higher education professionals.
As one who has found her purpose in higher education as the result of her own university journey, Gaddy and her research focus on the importance of inclusiveness in student activities and events, a topic she believes is both necessary and often overlooked.
"Sometimes, well-intentioned and dedicated people at colleges and universities work hard to provide meaningful activities and events to strengthen the sense of community among students," she observed. "I'm hopeful that my presentation will be a helpful reminder to keep the needs of students with disabilities in mind because they have a lot to contribute and bring with them a strong sense of their respective communities, too."
Stephanie Legree Roberts, executive director of the A&M-Central Texas Warrior Center for Student Success praised Gaddy for her research and its relevance, adding that it was significant that she was invited to present at such a prestigious conference as the National ADA Symposium.
"One of the things we knew about Chastity when we hired her is that her commitment to our students matches the same commitment that the University has and the same commitment that we see from so many others here on campus."
Also a recent recipient of the A&M-Central Texas Distinguished Student Leadership Service Award, Gaddy said that she remains inspired by her own experience as a former student and alum from Savannah State University in Georgia where she was embraced and mentored by members of the Omega Psi Phi fraternity.
"When I was a student, I learned firsthand how important building a sense of community was, and I found myself, my strengths, and my future both in and out of the classroom," she said. "I will always value what I learned about myself through those social activities, and I work every day here at the University so that students with disabilities experience that same sense of acceptance and community."