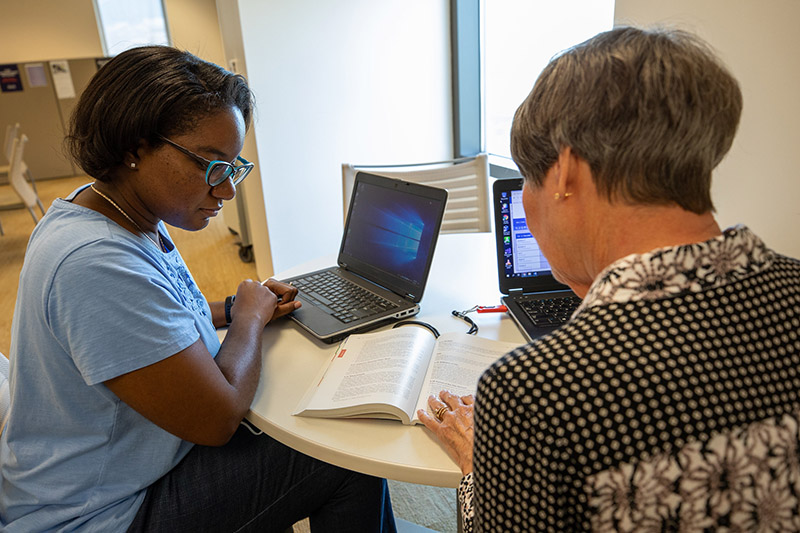 The University Writing Center (UWC) at Texas A&M University-Central Texas is a resource available to all students who need help with their writing. There, they can receive one-on-one or group tutoring at any stage of the writing process and at any level, undergraduate or graduate.
Skilled peer-tutors can act as a test audience, go over instructors' feedback on papers, brainstorm topics, and much more. Phyllis Wheeler, a UWC tutor and faculty member at A&M-Central Texas, spoke about some of the things they offer.
"We sit and brainstorm with them. We help them select a topic. Sometimes they have their topic, but they don't know where to focus. Sometimes they haven't done their research yet, they don't know what they need to start researching so we help them with that. The students come for a variety of reasons," she said.
Appointments are available both online and in-person on the fourth floor of Warrior Hall in room 416. Evening and weekend sessions are online-only. To book an appointment, students can visit WCOnline where they will find a full list of available tutors and times.
Many students attend the UWC on a regular basis, setting up recurring appointments with the same tutors. This can be especially helpful when working on a project that requires multiple drafts because the tutor can work with students from beginning to end, or even starting in the middle.
"They know what to expect when they come in. We know what to expect. Sometimes we've given them assignments… so, we can talk about that. It's nice to see their strengths as they move forward," Wheeler said.
Regardless of why or how often someone visits the UWC, there is always something to get out of an appointment. Wheeler encourages people to attend whenever they need it. The service is covered through tuition and is available to students at no additional cost.
"We've had people say, 'How much do I owe you?' You don't owe us anything, it's part of what you pay," she said. "Just come."