By Bernadette Serna
March 21, 2023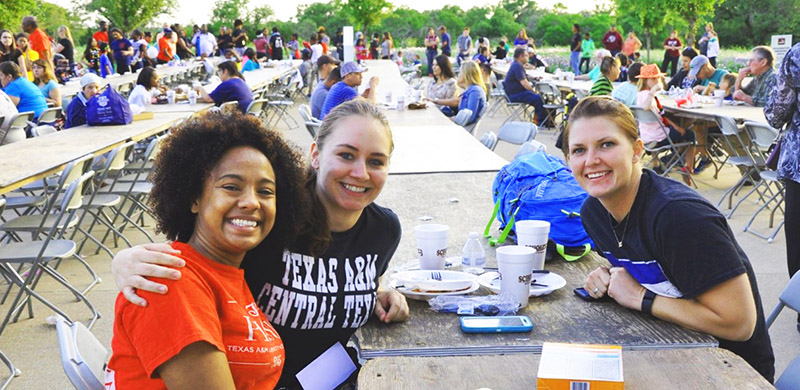 Warrior Week at Texas A&M University – Central Texas returns March 27-31 with new and traditional events for students. The annual event is designed to bring students together to celebrate the Warrior spirit and the commitment of the Warrior community supporting others.
Students can prepare for Spirit Day by tie dying a shirt Thursday, March 23 at 10 a.m. in the Beck Family Heritage Hall lobby.
Warrior Week officially kicks off Monday, March 27 with Spirit Day. Students, faculty, and staff are encouraged to wear a spirit shirt for a campus-wide group photo to be taken at The Quad at 3 p.m. Throughout the day staff and faculty are invited to decorate their office door. Students are encouraged to participate in a banner decorating contest. Construction will take place in Bill Yowell Conference Center (BYCC) from 11 a.m. to 2 p.m. Students do not need to belong to a student organization to participate.
Scholars Day, Tuesday, March 28 will include students showcasing their research in BYCC from 11 a.m. to 1 p.m., a book club at the library from noon to 1 p.m., a First Generation to Faculty virtual panel at 5:30 p.m., and Trivia Night in Bernie Beck Conference Center at 6 p.m.
Wellness Wednesday, March 29 will include the Wellness Fair in BYCC from 11 a.m. to 1 p.m. and Dinner Detectives in BYCC at 6 p.m.
Thursday, March 30 events will be Cool Down with the Cops in Heritage Hall lobby from 1 p.m. to 3 p.m., Video Game Tournament in The OC from 1 p.m. to 4 p.m., and the Distinguished Student Leadership and Service Awards Ceremony at 6 p.m.
The Warrior Picnic, an event many look forward to, will close out Warrior Week Friday, March 31 from 5 p.m. to 8 p.m. with a special screening of Top Gun Maverick in the BFHH Amphitheater.
An event that is making a comeback this year is the Faculty/Staff vs. Students Kickball Game taking place during the Warrior Picnic.
Students can learn more about Warrior Week events by contacting A&M – Central Texas' Student and Civic Engagement at sce@tamuct.edu.