One of the Best Colleges in the Nation to Work For!
A&M-Central Texas is one of the best colleges in the nation to work for, according to a new survey by the Great Colleges to Work For program!
— Sept 18, 2021
See local news coverage:
The results, released today in a special insert of The Chronicle of Higher Education, are based on a survey of 196 colleges and universities. In all, 70 of the 196 institutions achieved "Great College to Work For" recognition for specific best practices and policies . Results are reported for small, medium, and large institutions, with A&M-Central Texas included among the small universities with 500 to 2,999 students.
"To successfully pursue our unique mission, our faculty, staff, and administration must cooperatively engage on behalf of our students, directly contributing to the advancement and the ultimate success of each one of them. It is our collective energy, enthusiasm, intellect, and dedication that creates an environment in which our students can thrive," said University President Dr. Marc Nigliazzo.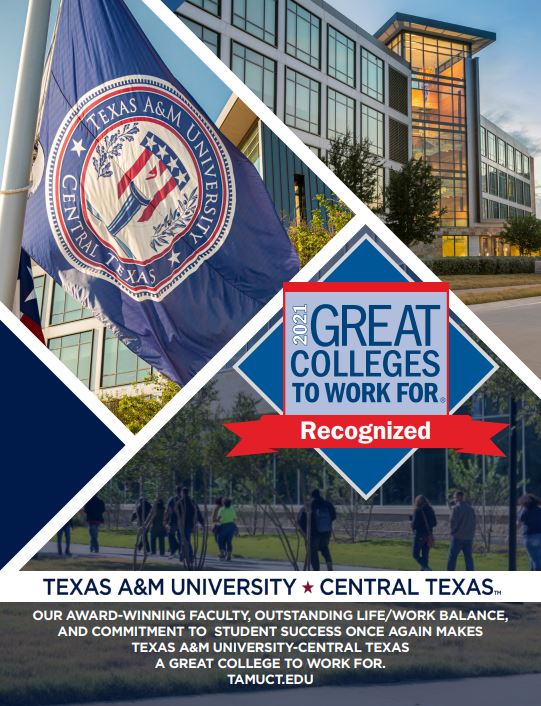 A&M-Central Texas welcomes students who have begun, but not completed their undergraduate degree, and offers numerous graduate degree programs as well. To date, more than 8,700 graduates have earned degrees in the Arts & Sciences, Business Administration, and Education.
"These findings suggest that A&M-Central Texas employees – faculty, staff, and administrators – recognize that the culture we have been deliberately building is more than a goal," he continued. "It is becoming a reality, and it is a wonderful affirmation."
A&M-Central Texas won honors in two categories this year:
Faculty & Staff Well-Being
With roots in work/life balance and wellness models, this recognition category is based on the impact of one's employment experience on their well-being (e.g., the opportunity to do meaningful work, the support for work/life balance and the experience of a safe working environment).
Supervisor/Department Chair Effectiveness
It is widely regarded that the experience of one's immediate supervisor is among the most important factors influencing whether an employee is truly engaged. This recognition category is based on the survey items providing insight into critical managerial competencies such as providing clear direction, constructive feedback, ensuring effective communication, and equitable treatment.
The survey results are based on a two-part assessment process: an institution questionnaire that captured employment data and workplace policies from each institution, and a survey administered to faculty, administrators, and professional support staff. The primary factor in deciding whether an institution received recognition was the employee feedback.
The Great Colleges to Work For program is one of the largest and most respected workplace-recognition programs in the country. For more information and to view all current and previous recognized institutions, visit the Great Colleges program website at GreatCollegesProgram.com and GreatCollegesList.com. ModernThink, a strategic human capital consulting firm, administered the survey and analyzed the results.