SUSTEX2021 Summit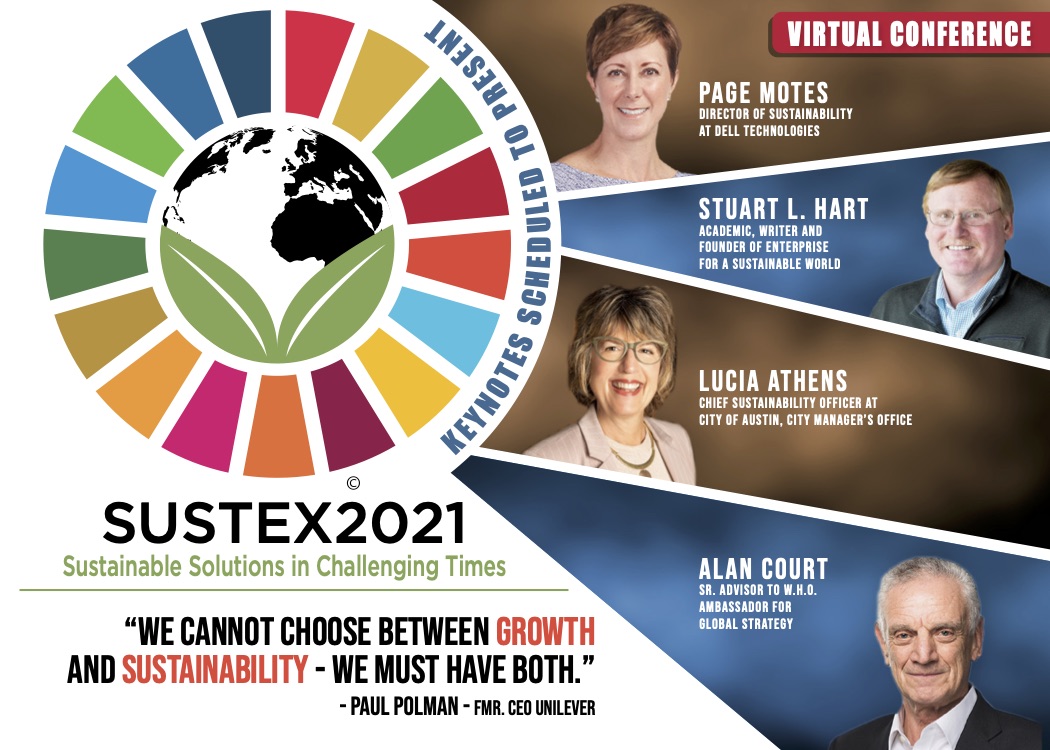 Sustainable Solutions in Challenging Times
April 22 & 23, 2021
Texas A&M University - Central Texas
Register to join us for SUSTEX2021 and have the unique opportunity to learn from and interact with sustainability experts at an exceptional value. Thanks to the virtual format this year, this event can be experienced from your home or office! All sessions will also be recorded and available on demand to registrants for 60 days after the summit, which is a valuable benefit since the workshops, panels, and paper presentations will be done in concurrent sessions and the program runs almost ten full hours each day.
SUSTEX2021 will be broadcast using WebEx Events, so live sessions may not be accessible via tablet or phone, but the recordings will be available on demand after the event.

SUSTEX is Focused on Leadership for Sustainability, Inspired By the Belief That:
Business leaders and their organizations should have a higher purpose beyond enriching financial stakeholders and themselves.

In addition to economic profits, leaders are responsible for employee well-being, for their communities, for the disenfranchised, and for the earth we all inhabit.

As a legacy, leaders must leave a sustainable flourishing world for our next generations to inherit.
Summit Overview
To say that we are living in challenging times is an understatement. In 2020 alone, devastating disruptions like the global pandemic caused by COVID-19, environmental events such as the vast wildfires in Australia and the US, a record hurricane season in the Americas, and global concern about economic and political instabilities have impacted lives in unprecedented ways. Such disruptions impact our daily lives, fundamentally challenge our traditional ways of doing business, and force us to redesign how we organize ourselves. Ultimately, these disruptions draw our attention to existing sustainability issues in our communities as they create new challenges. These challenges include—amongst countless others—human-health risks, income insecurity, political instability, clarity about ethnic inequalities, and poverty. Consequently, all such challenges create opportunities for highly sustainable solutions. This is the motivation for our SUSTEX2021 Summit theme.
Solutions involve developing actions that can significantly reduce negative outcomes. A sustainable solution should also positively impact the global, regional, and local environment, society, and economy by focusing on maximizing the triple bottom line of "People, Profit, and Planet."
Summit Objective
The objective of our primarily virtual SUSTEX2021 Summit is to gather current and future leaders from academia and industry to discuss current challenges and to present solutions that advance sustainable organizational practices. In doing so, this year's conference emphasizes sustainable solutions in challenging times through the lens of SUSTEX's foundational themes.
Leadership for Sustainability
Strategic planning and management for sustainable growth
Implementation of the Sustainable Development Goals to:
Partnership and collaboration for a better world - SDG 17