Amy Mersiovsky Profile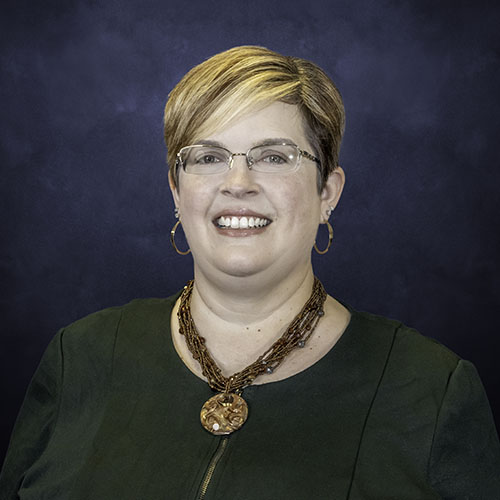 Dr. Amy Mersiovsky
College of Arts & Science
Director & Chair, Department of Nursing
Office/Room: HH 302A
Phone: 254-519-5487
Email: a.mersiovsky@tamuct.edu
Dr. Amy Mersiovsky serves as the Director and Chair of the Department of Nursing. She is an associate professor of nursing. She earned her Doctor of Nursing Practice (DNP) in Nursing Administration and Academic Nurse Educator Concentration Certificate in 2017. Dr. Mersiovsky earned her Master of Science (MSN) in Nursing Education from the University of Mary Hardin-Baylor in 2009. She earned her Bachelor of Science in Nursing from Arkansas Tech University in 1998. Dr. Mersiovsky is certified as Pediatric Nurse by the American Nurse's Credentialing Center. She earned a certificate in Effective College Instruction from the Association of College and University Educators in 2022.
Dr. Mersiovsky is a member of the Sigma Theta Tau Honors Society of Nursing and serves as a board member to the Tau Epsilon Chapter. She also serves on the Sigma Region 6 committee. In addition, she is an item writer for the American Nurse's Credentialing Center and peer article reviewer for Pediatric Nursing. Dr. Mersiovsky serves as the volunteer scheduling coordinator and nurse for the Feed My Sheep Children's Clinic. In addition, she volunteers with the Bell County Youth Fair and Texas 4-H. Dr. Mersiovsky was honored as the 2020 Arkansas 4-H Alumni of the Year.
Dr. Mersiovsky has presented research on nursing students and math anxiety, interprofessional Healthcare Education programs, the decrease in learning engagement of nursing students during COVID-19, and the experiences of the nurse educator during the COVID-19 pandemic. Other research interests include nurses being consulted by the media for healthcare topics and the effects of social media on children. Dr. Mersiovsky has consulted on 150 healthcare related news stories for local and regional news media sources since 2020.