Frequently Asked Questions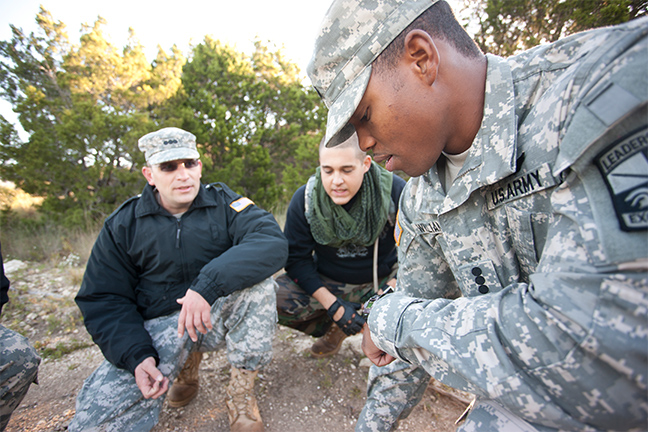 Benefits
---
For additional information on VA Education Benefits for all chapters, logon to the following website: GiBill.va.gov
A.
Chapter 30 - Montgomery GI Bill® – Active Duty (MGIB)

Chapter 31 - Vocational Rehabilitation and Employment

Chapter 32 - Veterans Educational Assistance Program (VEAP)

Chapter 33 – Post 911 GI Bill®

Chapter 34 - Vietnam-Era GI Bill® Program

Chapter 35 - Dependents Educational Assistance (DEA)

Chapter 1606 - Montgomery GI Bill® — Selected Reserve

Chapter 1607 - Reserve Educational Assistance Program (REAP)
This link will take you to the VONAPP (Veterans Online Application) where you will apply for the following benefits: Benefits.va.gov
(Please note the forms vary depending on the benefit you are applying for)
Listings of Education Benefit Payment Rates can be found at: GiBill.Va.Gov
Certification
---
Yes. You must complete a TAMUCT Request for Certification form for each semester you wish to use your VA education benefits. This form lets our Certifying Officials know you want to use your benefits and for which classes. Remember, you cannot be certified for a class if it is not required for your degree.
A. Yes, you can. However, there are some common problems that can occur when you turn in a request form after the deadline. For example:
Classes may not be certifiable; depending on when the paperwork is turned in, it may no longer be an option to change or adjust schedules, resulting in unpaid tuition (CH 31 & 33) and a reduction in monthly benefit payments.
Being dropped from classes for non-payment because of processing delays.
Bookstore letters are delayed (Chapter 31 students only).
Payment delays in excess of 6-8 weeks for monthly stipends and book stipends.
Parent Institution Letters are delayed due to increased processing times.
You may request to have any class certified that fits your degree with TAMUCT. If you are taking a class as a substitution for a required class, please provide the TAMUCT Veterans Affairs center with a copy of the substitution paperwork signed by your academic advisor.
Possibly. Generally speaking, the only classes that you can take, that are not specifically listed on your degree plan, are electives. However, there are certain circumstances where even electives may not be able to be certified. If you ever have questions about whether a class will fit your degree plan or if it can be certified contact our staff and we will be happy to take a look at it for you.
If you have unused hours that will fit in the elective space; those must be used first to satisfy the degree requirements before any new elective classes can be certified. If you have already met all of your elective requirements on your degree plan then electives may not be able to be certified.
Absolutely! Failure to notify the school Veterans Affairs Center may result in either an overpayment or underpayment. Timely reporting of changes is key to avoiding debts to the VA. The sooner we are able to notify the VA of your schedule changes, the sooner they are able to adjust your benefit payments. To report changes, please complete the Change of Schedule (Request for Certification form which can be found under the Forms page on the TAMUCT Veterans Affairs tab. This form is also available at the TAMUCT Veterans Affairs Center, Founders Hall Suite 221.
On the TAMUCT "Request for Certification" form, be sure you list the classes you want certified at the secondary school, along with the classes you are taking at TAMUCT. Under the block labeled 'Institution', be sure to list the institution name. This lets our Certifying Officials know where to send a Parent Institution Letter (PIL) on your behalf.
Yes! Our school is unique from many universities because we do not offer lower level courses. Many of our TAMUCT Warriors take classes simultaneously through local junior colleges. However, the classes you take at another institution MUST still fit your degree plan at TAMUCT. If they do not, we will not be able to send a Parent Institution Letter (PIL) to the secondary institution authorizing them to certify you. NOTE: You may never pursue to different degree programs at the same time, regardless of whether the degree programs are at the same school or not.
Parent Institution Letters (PIL) are letters that are sent from a Primary school to a secondary school authorizing the secondary school to certify classes the student is taking. Classes at the secondary school must fit the degree plan of the primary school or they cannot be certified. The PIL is sent directly via email to the Certifying Official of the secondary school.
Students must pay tuition and fees prior to the first day of the term, unless tuition and fees are being paid for by Chapter 33 Post 9/11, Chapter 31 Vocational Rehabilitation & Employment, and Financial Aid or Hazlewood exemption.
Hazlewood Act
---
Yes – with the exception of Chapter 33 (Post 9/11 GI Bill ®) at the 100% eligibility level or with Chapter 31 (Vocational Rehabilitation & Employment). If you are eligible for both the Hazlewood exemption and VA education benefits under Chapters 30, 35, 1606 or 1607 you may use both benefits at the same time. If you have Chapter 33 benefits at less than the 100% level, you may also use the Hazlewood exemption. For more information on the Hazelwood Act and other Texas State tuition exemptions and waivers, visit CollegeForAllTexans.Com or contact our Veterans Affairs Center at 254.519.5423 or va@tamuct.edu
Other
---
In order to receive college credit from military training and experience you must make a request for an official evaluation to the Admissions office. It is TAMUCT's policy that a student must be enrolled in six (6) semester hours past the census date at TAMUCT before making the request.