Writing in Social Work
Social workers provide assistance to populations in need, linking them to key resources and ensuring that they receive the help they need. As social workers, writing is one of our most powerful advocacy tools available and is vital to solving the demanding social problems we are currently facing. Success in writing can be key to gaining your clients the help and resources they need—writing in Social Work has real-world consequences!
Writing in Social Work is, for the most part, good writing in most contexts. Social Work writing needs to be clear, organized, targeted to a specific audience, on point, and use sources wisely. Research needs to be credible and drawn from credible Social Work journals in the United States.
There are two types of writing in social work: practitioner-based writing and scholarly writing. The practitioner is experienced-based and may conduct interviews with clients for writing reports; generally, this form of writing is more technical and precise. The scholar uses research and relies on sources and formal organization to compose texts and make original contributions to the body of knowledge within the field.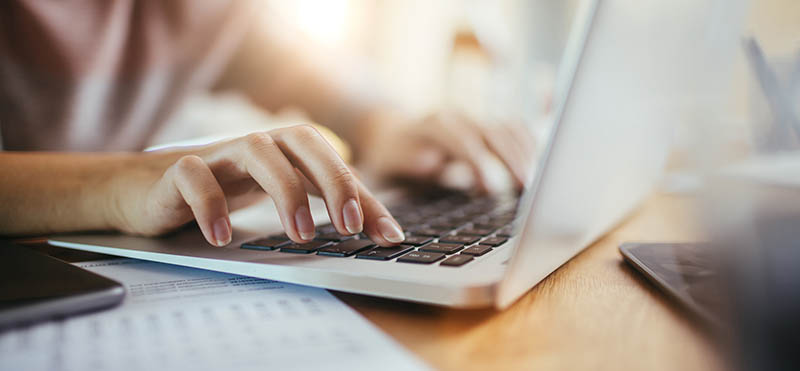 CLEAR—Use direct language
---
Writing in Social Work should be jargon free since jargon has multiple meanings and those meanings can vary from group to group. Instead, use appropriate terminology.

For example, "This person is at risk." This is JARGON. It is not clear what the person is at risk for. The statement is too general.
Instead, describe the condition. "This person likely to relapse in their drug use" provides more description about the precise problem. Be specific.

Use appropriate terminology. Make sure that your intended audience will know what the specific words mean. If you are unsure, always opt for simpler language.
Employ a simple sentence structure. Avoid using multiple clauses within a sentence as this can inhibit comprehension.
ORGANIZED—Have a clear beginning, middle, and end along with a logical progression of ideas.
---
Your introduction should answer the following questions: What is the reader looking at?; Why is it important?; What is the purpose?
The body of your text should develop your points fully. Each paragraph should have a main idea and that main idea should be fully developed.
Consider following the Assertion-Support Analysis (ASA) model when constructing your body paragraphs. Begin with an assertion that makes an arguable claim. Then provide support via observational or scholarly evidence. Most importantly, remember to provide analysis that explains why the evidence supports your assertion—readers will not always make the same connections as you!
The conclusion should pull your ideas together, restate what you have addressed, and provide any relevant implications from your work.
TARGETED TO AN AUDIENCE—Know who you are writing to and the most effective methods for conveying information to them.
---
Go beyond your instructor as audience to reach a general social work audience. Do not assume any specific knowledge unless your instructor has indicated you are dealing with a specialized audience.
Be aware of genre. The assignment will determine whether you will be writing as a practitioner or as a scholar.
Practitioner Writing

Practitioners do not rely on APA style rigidly.
Practitioners are experience-based. They are reporting on interviews and observations in order to write summaries and analyses.
Practitioners write in a technical fashion. Clarity of communication is critical and short, succinct sections are the most impactful. Be brief but specific.
The art of writing as a practitioner is in pulling out the relevant material for a reader so that they can make informed decisions.

Scholar Writing

Scholars rely on APA style and adhere precisely to its standards.
A more formal organizational structure is used for scholarly writing, usually including an introduction, literature review, methods (potentially), and conclusion.
Writing for a scholarly audience relies on placing credible sources in conversation with one another to advance knowledge.
STAY ON POINT——Avoid unnecessary detail.
---
Move beyond the descriptive to the most pertinent, relevant facts.
Avoid information that has nothing to do with your text.
Support your observations and opinions with evidence and details. (e.g. "The house is dirty" is not supported by evidence.) Be specific with what you observe and find. (e.g. "There were dishes stacked three feet high in the sink, and all of the furniture had a 1-inch layer of dust on it" provides evidentiary support for your observations and opinions.)
USE SOURCES WISELY——Conduct proper research and present your findings professionally.
---
Consult a librarian—they are more than willing to help.
Employ databases and be specific with your search terms in order to ensure specific results.
Use credible journals and books from the United States. If you are unsure if a journal or book is credible, look for Social Work in its title.
For online and other print sources, aim for information and materials which come from reputable professional organizations, non-profits, or government sources. Avoid sites by organizations that do not have standing in the Social Work community as well as personal sites.
The more often a source is cited, the more likely it is credible.
When you find a strong source, look up the sources from its reference page. You do not have to reinvent the wheel!
Draw from sources that have been published in the last 10 years unless you have good reason to use older sources.
Paraphrase whenever possible. Avoid direct quotations unless absolutely necessary. (Unless the specific words gain you something a paraphrase cannot, opt to paraphrase.)
---
Helpful Resources
The UWC's APA Jumpstart
APA PowerPoint
Purdue OWL APA
Purdue OWL Professional, Technical Writing