Program Overview
The Bachelor of Science in Psychology at Texas A&M University-Central Texas offers a variety of courses in clinical work, research, applied psychology, and psychological theory. Program faculty are researchers who are committed to excellence in education and have diverse backgrounds reflective of the broad scope of the field of psychology (e.g., abnormal, cognitive, social, and developmental psychology).
Psychology majors have many opportunities to conduct research with faculty members exploring a range of topics including program evaluation, responses to trauma, exam anxiety, online learning, and more. 
Talk to an A&M-Central Texas academic advisor, online or in person, for prospective student advising, undergraduate and graduate advising, and help with a range of other issues.
Schedule an advising session
The majority of our graduates go on to further study in psychology and are accepted into a graduate program. Other graduates from our program have found jobs or advanced in their existing careers at human services agencies within the Central Texas region.
---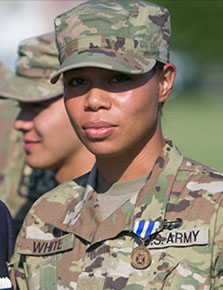 A&M-Central Texas Psychology Graduate Excels With Timely Research During COVID-19
During Spring 2020, 2nd Lt. Fesui White completed research that has the potential to help faculty improve instruction as courses move online.
Learn more
!
Photo of 2nd. Lt. Fesui White by Dustin Massengill, CST Public Affairs Office. The appearance of U.S. Department of Defense (DoD) visual information does not imply or constitute DoD endorsement.
---
Career Opportunities
Research Scientist
Clinical Psychologist
Clinical Mental Health Counselor
School Counselor
Marriage and Family Therapist
Policy Researcher
Data Analyst
Community Organizer/Planner
---
Transfer Pathways:
The direct & affordable path from your community college to a BS Psychology degree!
A&M-Central Texas offers customized transfer pathways leading to the BS Psychology degree for students at these colleges. Don't see your college or degree program? Contact us, and we'll create one for you specifically!
If you are planning to start your study at an A&M-Central Texas partner college, our Transfer Pathways help you identify the specific courses you will need in each semester, from freshman through graduation!
If you are already attending an A&M-Central Texas partner college, Transfer Pathways show you the quickest path to a bachelor's degree, with no extra classroom time and no wasted credit hours.
If you attend or plan to attend another college, A&M-Central Texas will create a customized pathway just for you, and update it with you each semester as you move toward your degree!
Or use one of our transfer guides, which lead you to an Education BAS degree by showing typical freshman and sophmore classes:
Contact us: We're here to help you graduate on time and with less student debt.
---