The Quality Matters Program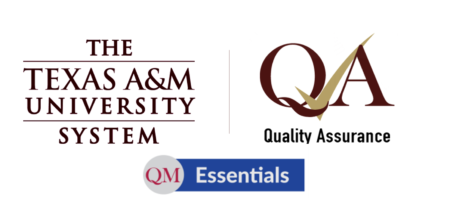 Texas A&M University-Central Texas is committed to the implementation of Quality Matters standards for the design of online and blended/hybrid courses. We build and evaluate our courses based on the rigorous, research-based Quality Matters (QM) standards. The QM standards assure that the online components of these courses promote learner engagement and provide students with all the tools and information they need to be successful learners.
As part of the Texas A&M University System Quality Matters Consortium, A&M-Central Texas has adopted an internal review process for online and blended courses that adheres to the guidelines established by Quality Matters (QM).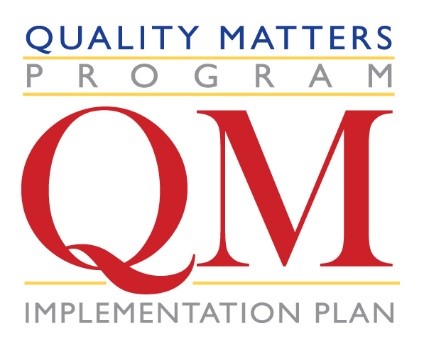 Benefits for A&M-Central Texas
The Quality Matters Program benefits both individual faculty members and our institution in the following ways:
Improved student learning outcomes and retention
Adoption of a systematic quality assurance process that includes faculty training, course development, and course revisions that are aligned with accreditation standards
Incorporation of new technologies and research findings
Student Benefits
A course that meets QM standards provides the students with assurance that the course has been planned, developed, and designed with all components to make his or her learning experience a success. As more courses meet QM standards, the student will become more confident and will become motivated to enroll in more online courses.
Faculty Benefits
TAMUCT maintains the requirement for all faculty members to maintain proficiency in online teaching and, thus, requires professional development training in online teaching, teaching methods, and online course design.
A course that meets QM standards provides the faculty member with a course whose principal components are in "alignment" with each other (objectives, activities, resources, and assessments) and which is supported by best practices as identified in the literature. Faculty members will have an opportunity to participate in professional development workshops on how to apply the QM rubric and build or improve their online course. The course developer will be an integral part of the internal review process with shared responsibility and ownership. QM influence on hybrid and blended courses is also likely to occur.
More information and a list of current reviewers and reviewed courses can be found in the Canvas community: Faculty Center for Teaching and Learning.
Internal Peer Review Process
The Faculty Center for Teaching and Learning (FCTL) and Technology Enhance Learning (TEL) will oversee Internal Reviews of online and blended courses. This process adheres to the guidelines established by QM.
Contact
For more information about QM and to prepare your course for an Internal Review complete a request for an "Instructional Design & Technology Consultation" through the Request TEL Support link in the TEL Canvas community.*
*If you are a member of the College of Business Administration, see the COBA QM web page for college-specific information.