Program Overview
The Bachelor of Applied Arts and Sciences (BAAS) in Information Technology at Texas A&M University-Central Texas is a unique transfer pathway, providing opportunities for your academic and career advancement in networking, programming, database management, and cybersecurity, as well as other specializations.
As a BAAS Information Technology student, you will engage in hands-on course work in a small class setting to ensure direct engagement and learning with your professors. The pathway program enables those with an Associate of Applied Science degree, including the AAS programmer Analyst degree, to build a foundation in systems analysis and design, programming, database management, data communications, networking, software engineering, algorithms, cybersecurity, and today's cutting-edge technologies. Students may complete the program by obtaining up to 36 hours of credit for the relevant program coursework, certifications, non-academic and military Information Technology training in the field.
Talk with an advisor to find out how you can pursue a micro-credential (9 credit hours) while pursuing this degree. Micro-credential options: Business Analytics & Intelligence and Cybersecurity.
Talk to an A&M-Central Texas academic advisor, online or in person, for prospective student advising, undergraduate and graduate advising, and help with a range of other issues.
Schedule an advising session
---
Career Opportunities
Web Development
Networking
Cyber Security
Software Engineering
Database Management
---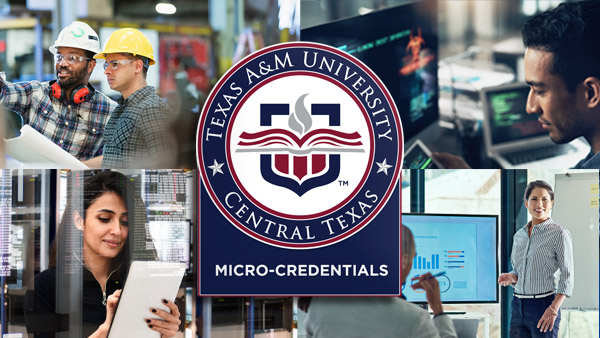 Learn About Micro-Credentials
A micro-credential issued by the A&M-Central Texas College of Business Administration gives you a chance to highlight your marketable skills and academic accomplishments. Even if you are not a student in the College of Business Administration, micro-credentials allow you to show future employers that you added valuable business skills and knowledge to your degree. Learn more.
---
Transfer Pathways:
The direct & affordable path from your community college to an IT Bachelor's degree!
A&M-Central Texas offers customized transfer pathways leading to the IT BAAS degree for students at these colleges. Don't see your college or degree program? Contact us, and we'll create one for you specifically!
If you are planning to start your study at an A&M-Central Texas partner college, our Transfer Pathways help you identify the specific courses you will need in each semester, from freshman through graduation!
If you are already attending an A&M-Central Texas partner college, Transfer Pathways show you the quickest path to a bachelor's degree, with no extra classroom time and no wasted credit hours.
If you attend or plan to attend another college, A&M-Central Texas will create a customized pathway just for you, and update it with you each semester as you move toward your degree!
Or use one of our transfer guides, which lead you to a degree by showing typical freshman and sophmore classes:
Contact us: We're here to help you graduate on time and with less student debt.
---
Accreditation and Member