Student Succeeds with Foundation help!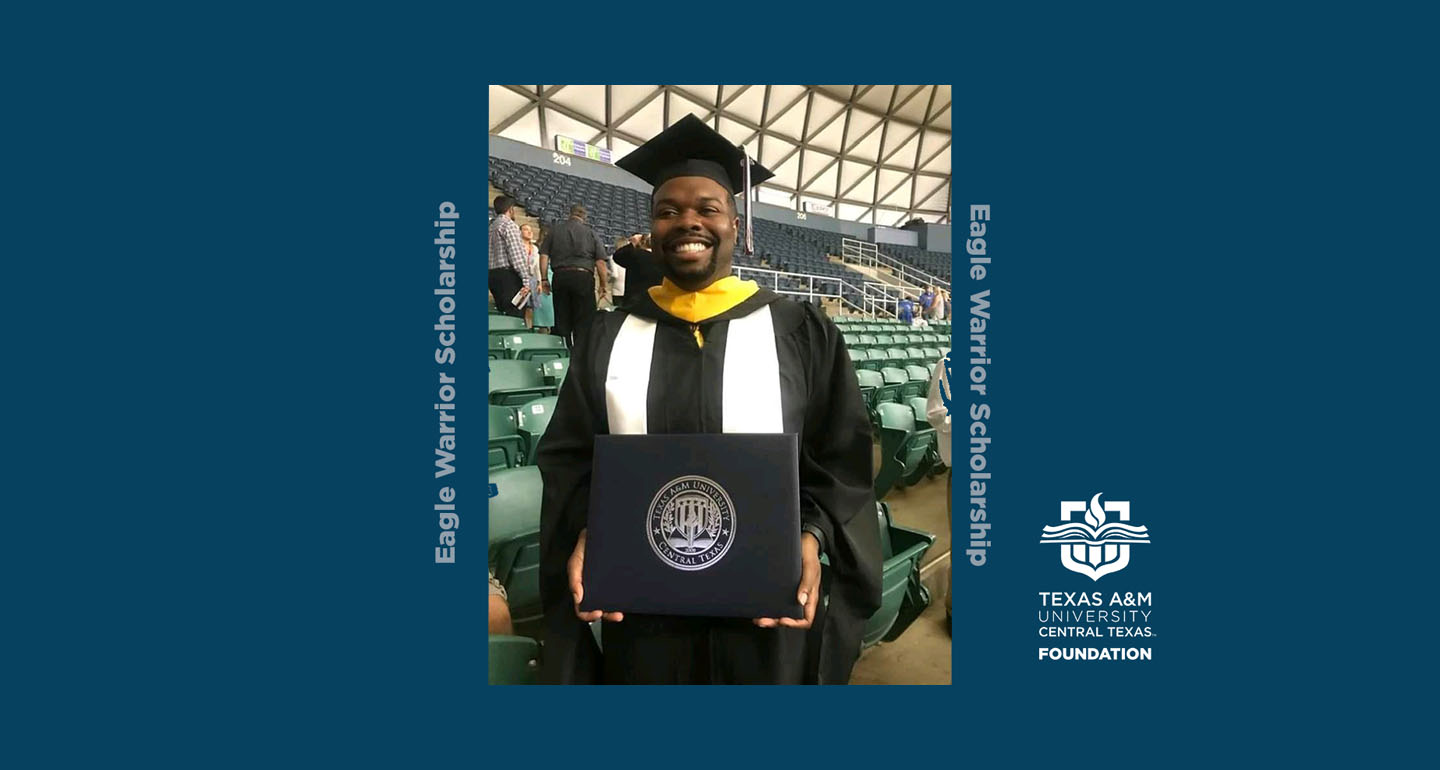 Kermaine Lockett, 25, graduated from A&M-Central Texas with an undergraduate degree in networking and management in 2016 after transferring from Central Texas College in 2014.
The first in his family to go to college, Lockett is keenly aware of how lucky he is. His mom, Angela, works three jobs, and his father, John, busses tables at a local restaurant.
An Ellison High School graduate from the Class of 2012, Kermaine received the University Foundation "Eagle Warrior Scholarship" which provided tuition, fees, and books both at Central Texas College and A&M-Central Texas.
His educational path was made smoother, he said, because he had applied for and received the Eagle Warrior Scholarship, one created to benefit Central Texas College students majoring in one of A&M-Central Texas 28 undergraduate degrees. For Kermaine, it was information technology and management.
But, he says, he wanted to go farther. A friend of his had recently received his graduate degree, crossing the stage to be hooded by University administrators. That moment, Lockett remembers, really moved him.
"I don't know why, but when I saw that moment – in fact, when I saw that moment for the graduate students where they are seated and then the master's hood is placed around their neck and draped down the back – I thought, 'I want one. I want that.'"
And so it was, he says, that once he completed his undergraduate degree, he immediately applied for admission to the College of Business Administration, majoring in information systems.
"Because the Eagle Warrior Scholarship paid for the tuition and fees and books through Central Texas College and A&M-Central Texas, I had saved the money I would have otherwise had to pay, and used it for my graduate program. I feel like I was given not one gift, but two."
Lockett isn't the only one in his family blessed with brains and good luck. His brother, Koshan, 18, earned a full ride scholarship at the University of Texas where he majors in engineering. His little sister, Keyah, 22, also a student at A&M-Central Texas, is an Exercise Physiology and Human Performance student.
Currently working at The Killeen Community Center as a recreation assistant, Lockett is looking forward to competing in the wide world of information technology, hoping to begin a career that will put his skills and love for high tech to work.
"There's a lot of competition out there for entry-level jobs," he said. "So I decided to pursue the graduate degree to give myself an advantage over those who don't have one. It's another reason why I'm so grateful for the scholarship. I don't think I would have been able to have gotten this degree without that original scholarship."
A&M-Central Texas Development Officer, Kay Carey, acknowledged the impact of the Eagle Warrior Scholarship – and others being offered at the University, the vast majority of which are funded by the A&M-Central Texas University Foundation.
"For the past 12 years, the University Foundation has been the single most important driving force of fundraising for University scholarships, benefitting many hundreds of students with gifts that range from a book scholarship to a partial scholarship to full ride scholarships. Their work has been tireless, consistent, and driven by the heart and their desire to see the financial impact of educational expenses lightened as much as possible."
University President, Dr. Marc Nigliazzo, also praised the A&M-Central Texas Foundation.
"The Foundation was actually in existence before the University was officially created," he noted. "So great was their faith in their mission to bring a University to the Central Texas region, that they began raising the needed scholarship funds before our doors open.