Why Give
When you make a gift to the A&M-Central Texas Foundation, you add to the strength and momentum of the university's efforts to achieve its mission:
Texas A&M University-Central Texas is a public, upper-level university offering baccalaureate and graduate degrees important to the region and the state. It is committed to high quality, rigorous, and innovative educational programs delivered in a variety of instructional modes to a diverse student population through exceptional teaching, service, and applied scholarship. With an emphasis on community engagement, the university employs emerging technology to enhance student learning and to nurture its partnerships with regional community colleges, the military presence in its region, and the community at large.
Generous contributions provide opportunities to support student success through financial assistance programs, enhance existing services, expand programs to meet regional needs, accelerate research, and recruit and retain exceptional faculty.
WHEN YOU GIVE, YOU HELP:
Identify, recruit, and educate future business and civic leaders.

We have helped more than 800 students since Fall 2014 through scholarships, but many more need assistance each year.



Recruit talented faculty

by recognizing them for exceptional teaching, service, and scholarship.


Establish the University Honors Program to support distinctive educational research and intellectual opportunities.



Create the Faculty Center for Teaching and Learning

to support teaching innovation and best practices in support of student learning.



Develop the Center for Community Engagement

to support partnerships between the University, community, and region, focusing on civic engagement and social responsibility.
Private Giving is Critical to a Public University
Fluctuating state appropriations and efforts to curtail the rising cost of higher education have made contributions from private donors essential for increasing student attainment and the long-term success of public institutions. The A&M-Central Texas Foundation identifies, cultivates, and solicits philanthropic contributions to support University initiatives in support of its mission.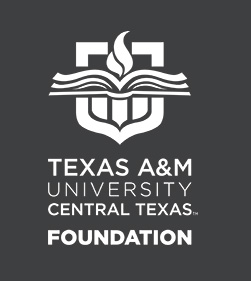 PRIVATE GIVING IS CRITICAL TO A PUBLIC UNIVERSITY
As allocations from state funding vary from one biennium to another and costs to students increase, contributions from the private sector become more and more important. There are many ways to help, and there are many needs, foremost student scholarships. And because A&M-Central Texas tuition is among one of the lowest in the state, your scholarship donations have more impact.
Private support is essential to extend the University mission of accessibility, affordability, scholarship, research, and recognition. The A&M Foundation identifies, cultivates, and solicits philanthropic support to extend this mission. Giving is what will insure that future generations have continued access to the Texas A&M University-Central Texas legacy.