Things to Know:

Guidance for the Campus Community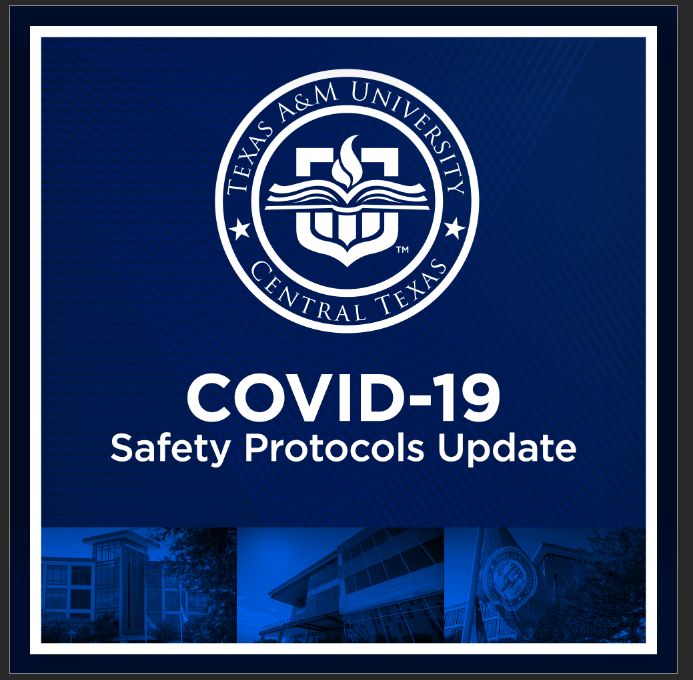 Guidelines for COVID-19
September 1
A&M-Central Texas continues to monitor the COVID-19 pandemic via data available from the Centers for Disease Control and Prevention, Texas Department of State Health Services and the Bell County Health District. Find information on the rate of community spread at the CDC website: https://www.cdc.gov/coronavirus/2019-ncov/your-health/covid-by-county.html.
Current university COVID-19 policies and guidelines for the Fall sessions:
Students, faculty and staff are no longer required to complete the COVID-19 Self-Reporting Form. However, everyone is required to continue to follow CDC protocols if you are symptomatic, test positive or are exposed to someone who has tested positive. Visit the CDC website for additional guidance and information on how long to quarantine or isolate.


Students:

If you are self-isolating or quarantining, please contact your professor(s) as soon as practical to make arrangements for your course(s).

Employees:

Notify your supervisor of the need to take leave or arrange an alternate work plan
If necessary, contact HR@tamuct.edu regarding leave requests that may be required in Workday

PCR testing and vaccinations will no longer be available on campus. Please visit the statewide COVID-19 Testing and Vaccination pages for information on where to test and receive vaccinations.

Test Kits Available

Note: COVID-19 self-test kits are currently available to A&M-Central Texas students and employees for pickup at the Welcome Center window in the lobby of General Robert M. Shoemaker Founders Hall, and in the University Library in Warrior Hall during normal school hours.
In the event that the COVID-19 Community Level rises, the university will update our policies and guidelines to help mitigate the spread of COVID-19 within our community.