Military & Veterans Services
Warriors Supporting Warriors, Active Duty and Veterans Alike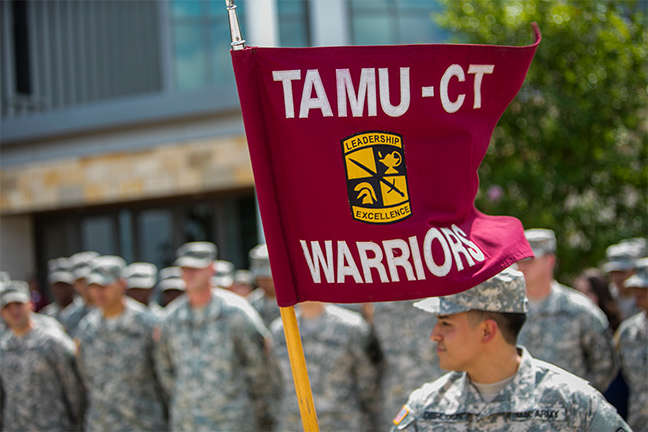 Military & Veterans Services
---
The Veterans Affairs Center strives to reduce transition issues for Veterans and servicemembers by sponsoring Veteran support activities and promptly certifying education benefits in accordance with federal, state, and university regulations.
Veterans are afforded the same rights and must meet all academic requirements and maintain the same academic standards as any student attending Texas A&M University - Central Texas.
A&M-Central Texas participates in the Yellow Ribbon Program
Announcements and Information
---
Processing requests received on:
12 May, 2021
VA Certification Requests and Hazlewood Applications
---
VA Certification Requests and Hazlewood Applications will be accepted for Summer 2021 beginning April 5, 2021, for registered students. Fall VA Certification Requests and Hazlewood Applicationss will be accepted beginning June 7, 2021.

ArmyIgnitED System Delayed
---
The ArmyIgnitED system launch is currently delayed due to data migration. A revised launch date for ArmyIgnitED is TBD. Please contact us to inquire about using Army Tuition Assistance.

Changes to Post 9/11 Tuition and Fee Debt for Drops and Withdraws
---
The VA notified institutions of new legislation that was signed into law: Johnny Isakson and David P. Roe, M.D. Veterans Health Care and Benefits Improvement Act of 2020 (Public Law 116-315).
Section 109 of this legislation, effective immediately, changes how the VA will administer debts for tuition and fee payments made to the school for beneficiaries that drop or withdraw from classes.
Previously, when a student dropped or withdrew after the first day of the semester the VA would notify the student that there was a tuition and fee overpayment for the course/s that were dropped or withdrawn from and it was the responsibility of the student to repay the VA for reducing credit hours.
WHAT HAS CHANGED?
This is now the responsibility of the school to repay the tuition and fees that were paid by the VA. The school must return the payment to the VA for courses dropped or withdrawn from after the 100% refund period and the student will now be responsible for paying the tuition and fees to the school for the courses dropped or withdrawn from. An unpaid balance can affect future registration.
WHAT THIS MEANS FOR YOU:
Take careful consideration when reducing credit hours after the 100% drop deadlines or submitting for a withdrawal without extenuating circumstances. We encourage you to consult with a school certifying official at the TAMUCT Military and Veteran Services Center if you are considering reducing credit or withdrawing from courses.
Book stipends and monthly housing allowance debts that are due to drops or withdrawals will still be the students responsibility to pay back to the VA.

Rounding Out to be Phased Out:
---
A VA student can round out a schedule with non-required courses to bring his/her course load up to a full-time schedule in his/her last term only. This allows students to continue to receive benefits at the full-time rate in their last term of enrollment, even though fewer credits are required to complete the program.
This procedure can be done only once per program.
In rounding out a full-time schedule, VA students may use any credit hour unit subject, including a subject that has previously been successfully completed (received a passing grade).
NOTE: Rounding Out will be phased out for terms beginning on or after August 1, 2021. Please see your academic advisor and plan ahead.

Attention All VA Education Benefit
and Hazlewood Students:
---
The Military and Veteran Services Center will begin accepting spring 2021 certification requests and Hazlewood applications for registered students on November 2, 2020. The priority deadlines for upcoming semesters are:
Spring 2021: December 1, 2020
Summer 2021: April 26, 2021
Fall 2021: July 12, 2021
Students using VA education benefits are encouraged to submit their certification request forms before the priority deadline in order avoid payment delays or problems with certifications. Please visit our   Getting Started Page for tips to help ensure a smooth certification process.
Requests for VA Certification and Hazlewood Exemption applications, as well as all supporting documents can be submitted via email, electronically via WarriorWeb, or in person at the Military & Veteran Services Center.
All requests will be accepted and will be processed in the order they are received.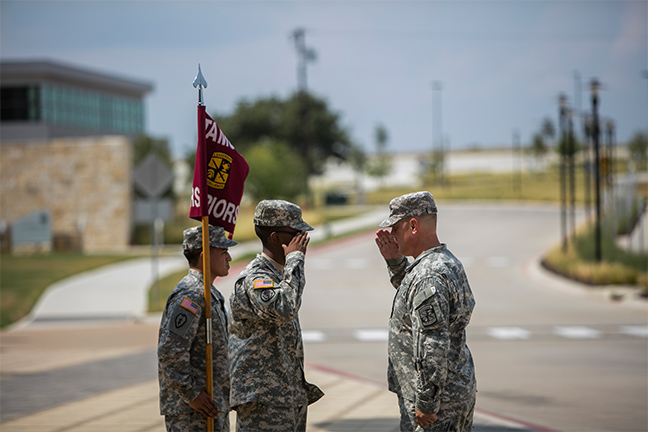 Work Study Positions Available
---
The TAMUCT Veteran's Affairs Center is currently accepting applications, along with a resume and cover letter, for VA Work Study positions. Please visit our Forms page to find the work study application.
Attention: Post 9/11 GI Bill® (Chapter 33) Recipients
---
If you served in the Army National Guard and are currently receiving less than 100% benefits under Chapter 33 (Post 9/11 GI Bill®), you need to read this . Air National Guard service members and veterans, read this
The Post-9/11 GI Bill® authorizes the most extensive educational assistance opportunity since the passage of the original GI Bill® in 1944. The maximum benefit allows every eligible veteran, service member, Reservist, and National Guard member an opportunity to receive an in-state, undergraduate education at a public institution at no cost. For more information about the Post-9/11 GI Bill® please visit  GiBill.VA.Gov
Texas A&M University-Central Texas: Warriors Supporting Warriors!
Meet some of the A&M-Central Texas students, faculty and staff who have proudly served in the U.S. military. Hear a little about them and how A&M-Central Texas is a community of Warriors Supporting Warriors!
See our complete playlist on YouTube, and be sure to like and subscribe!