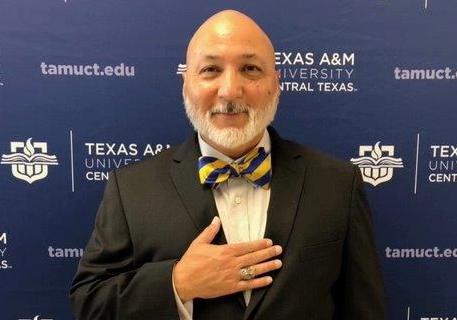 Sunday, Aug 18, 2019
A&M-Central Texas alum promotes sustainability
Harker Heights resident George Ybarra, 57, was born on the southernmost edge of the Texas hill country, in the small town of Uvalde, not far from Garner State Park. Surrounded by acres of bigtooth maple, desert willow, Texas live oak, and the tree-lined shores of the Nueces River, it was where his life began.
The younger version of himself, he admits, could not have imagined how his world would — quite literally — expand in the decades ahead. From the quiet tranquility of his childhood, he would live and work at more than eight different duty stations in the United States and abroad.
His life would do what the Nueces River does; it would bend and turn, pushing forward, and eventually find an ocean, and, as a result, it would become something larger than it might have ever imagined. For Ybarra, that transformation would happen as a result of his service in the U.S. Army. And that same river would carry him home again, changed but somehow the same, to the northern Hill Country of Central Texas.
Enlisting right out of high school, Ybarra trained to be a military policeman. In the years that followed, he met and married his wife, Amy, and together, they raised four sons. In the 26-plus years that comprised his military career, Ybarra received orders for duty stations that took him and his family to Kentucky, Alabama, Missouri, Texas, Panama, Germany, Korea, eventually returning him to Central Texas.
At each duty station, Ybarra took in the various cultures in which he found himself whether that be in the heart of deep south, the Midwest or Central United States, Central Europe or Eastern Asia. That appreciation for the world and its cultures would, he says, become very important to his future.
Ybarra had attended Gadsden State College in Alabama and then American Military University where he earned an undergraduate degree in criminal justice — the first in his family to do so.
In the Army, he rose to the role of investigator, then became an instructor at the Military Police School. In subsequent positions, he secured the release of incarcerated personnel by exercising legal processes in accordance with the Panama Canal Treaty. By the time he retired, he had risen to rank of master sergeant and served more than two and a half decades.
Returning to Central Texas, he accepted a position with Killeen ISD where he has served 13 years as the director of purchasing.
This past June, Ybarra walked across the stage at the Bell County Expo Center, receiving his master's degree in One Planet Leadership from Texas A&M University-Central Texas, inspired, he said, by his international travel, his original love of the environment, and the accessibility of a graduate program that allowed him to translate all three into real life.
He's embraced the on-going sustainability programs already in place at KISD, using eco-friendly cleaning products, re-using and re-purposing furniture — even making sure that the tin cans from the school district cafeterias are included in the recycling efforts happening every day.
"KISD does it because they believe in it as a district initiative," he explained. "All KISD new campuses are designed with environmental initiatives in mind."
And while large-scale systemic efforts like those are certainly worthy of applause, Ybarra uses what he learned in the One Planet Leadership Program in his position at KISD, praising content as well as the faculty in the College of Business Administration.
"Right here, in Central Texas, I had an international perspective," he explained. "Dr. Jancenelle, from France, lead the business management class. Dr. Sluhan taught sustainability principles from Copenhagen. Dr. Wei, from China, taught business research."
He had given thought to other business programs, browsing for campus and online options, but when he found the A&M-Central Texas master's program in One Planet Leadership, he didn't think about the others twice.
"The program was on campus and online, and it was not a 'cookie cutter' business curriculum," he explained. "I got all the prestige of an A&M degree without the prestige price, and I was powerfully drawn to its philosophy and purpose."
The first in his family to earn a university degree and now the first to have earned a graduate degree, Ybarra acknowledges the humble heritage of his birthplace, adding that growing up in such a secluded and beautiful environment embedded within him a love for the preservation of the planet's resources.
"I get to do what I love with people I love in a place that I love and nurture the planet that I love," he said, smiling mischievously. "Not bad for a boy from Uvalde, is it?"