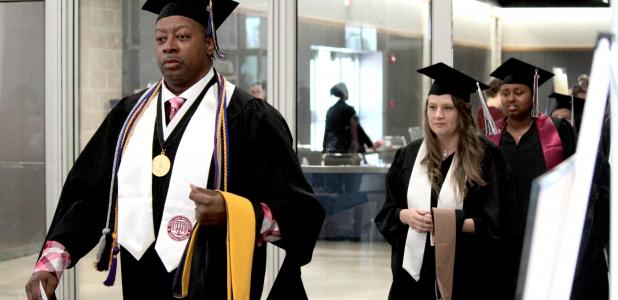 Monday, Aug 12, 2019
A&M Central Texas Holds August Graduation
Fifteen graduates from Copperas Cove were among the nearly 140 students of Texas A&M Central Texas to walk the stage at the Bell County Expo Center on Saturday to receive their degrees.
Of those 15, five received master's degrees, while 10 more received their undergraduate degrees.
For Kermaine Lockett, it meant a new chapter in his family history. Lockett was the first in his family to attend college. Saturday, he walked across the stage to receive his Master's degree in business. Lockett's parents worked multiple jobs for much of his childhood. Lockett received a scholarship, which paid for his undergraduate degree; but he was not stopping there. He saved up his money while completing his undergraduate degree and used it to further his education.
"It means a lot to me to be here today," Lockett said. "I'm happy because it means I'm finished with school for now, but I'm excited to take what I've learned here and get started in a career. It just really means a lot to be here, and it's an awesome experience."