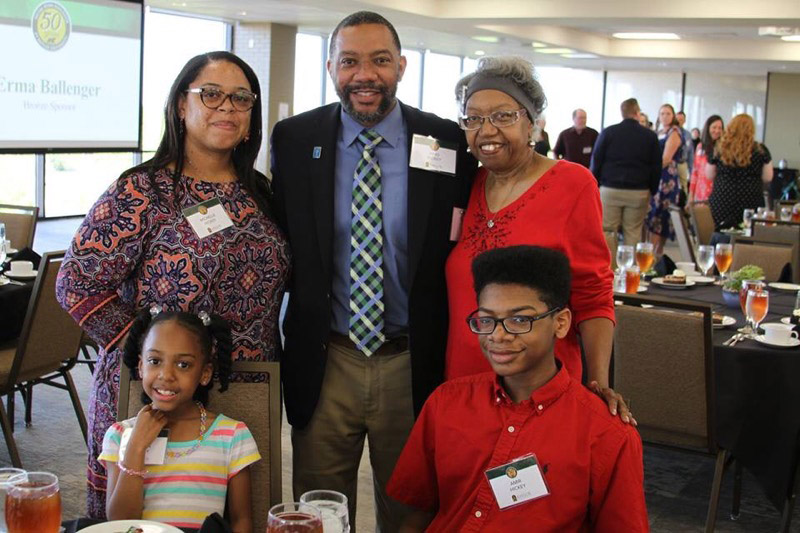 Sunday, Sep 8, 2019
Military Veteran Heads to A&M-Central Texas Inspired by Spouse's Educational Journey
For the past 13 years, Temple resident, Michelle Lynn Hickey, 39, has lived a quiet, unassuming life. A veteran of the U.S. Army, working mom and devoted spouse, she has a job she loves, two great kids, and a good life.
But there is more to this extraordinary woman than meets the eye. There's a deliberate intentionality to her actions, born years ago and once again brought forward in a way that is as subtle and strong as the woman herself.
Born in small town Port Arthur to a single mother, Hickey grew up with younger brother, Corey, and older sister, LaShonda, surrounded by an aunt and grandmother. Her mother, Peggy, worked from dawn to dusk as a prison guard.
Growing up, she says, she was shy. But her academic promise was evident. By the time she was in sixth grade, she began the gifted and talented program, taking on science, English, and math.
Still, she admits, she was out of her element at school, occasionally teased and she remembers, marginalized by the in crowd. And so, upon graduating, she made the decision to join the Army.
She laughs as she remembers that time, leaning forward to raise her hands in exasperation and nostalgia.
"I was a horrible runner," she confessed. "There was one woman in our company who would call out my name when I ran – back then it was Michelle Sloan – she'd pronounce it four syllables, so it sounded like, 'C'mon, Suh-lone!'
Everything I missed in school, I found in the military. I'd always wanted that sense of camaraderie where individuals came together as a team to support each other."
Occasionally, she says, the other men and women in her platoon would run with her during practice, calling out her name in cadence as she kept trying.
By the time the 16 week training was over, Hickey had improved, but not quite enough to feel certain she could make the one-mile requirement.
And so, during the final run, a member of her platoon, Sgt. Jimenez, voluntarily ran alongside her, pacing her and encouraging her through every step until she had finished.
Even after all of these years, she says, that moment stays with her as the most valuable of lessons: A little encouragement, she says, can have an extraordinary impact.
And so, it's difficult not to admire this woman – the soft-spoken former soldier, veteran, spouse and mom – who didn't just survive boot camp and a one-mile fitness test, but who embraced the values she learned there, applying them decades later in support of her spouse and family.
"Years ago, my husband, Kino, had a set back," she explained. "He tried going to a university, and it just didn't work out for him. After a year of trying, he hadn't lived up to his expectations. The disappointment changed him. He was so demoralized, he held himself back. He thought it was his fault."
One day, she says, she received an email from her employer. A program had been developed for employees of the V.A. Hospital who were interested in returning to college. Both husband and wife were employed there, so she sent it to him, asking him what he thought if 'they' tried again. 
His first response wasn't what I thought it might be," she laughed. "He got annoyed with me. He pointed out that it would be 'him' taking the classes, doing the work, traveling to and from college, and balancing work and family. He still had his doubts that he could do it."
Eventually, she said, he set his uncertainties aside, and took his first tentative steps toward his degree, attending Central Texas College.
Not only did he do well there, he thrived. In time, he found his stride, transferring to A&M-Central Texas where he earned his undergraduate degree in social work with honors. Last year, he received his MSW from The Diana R. Garland School of Social Work at Baylor University, graduating with honors and designated outstanding graduate student.
"He graduated with a near-perfect grade point average," she said, again beaming with pride. "He just passed his licensure examination and has accepted a position at the V.A. Hospital as a social worker in the Homeless Veteran's Clinic.
And now, it's her turn. The woman who simultaneously began her own educational journey while re-inspiring her husband's long-held dream of a university degree, who completed her associates degree with honors from Temple College while supporting her husband through a full-time year of graduate study, keeping the home fires lit and the bills paid, is now following in her spouses footprints, accepted into A&M-Central Texas this summer, pursuing her undergraduate degree in computer information systems.
And he is right there, she says, returning the encouragement in anticipation of her graduation in 2021.
Still, she blushes when anyone suggests that there's a story to be told here, a soft shade of pink rising up on her caramel skin. The way she sees it, she has paid it forward – all of the encouragement she learned on a quarter mile track during basic training – and the reward is seeing her husband and family thriving and the knowledge that a little encouragement goes a long way.
"Think about it," she says, "about what would happen to our world if we just took the time to encourage each other more. It's what service in the Army taught me. It'll always be a part of our family and our future."