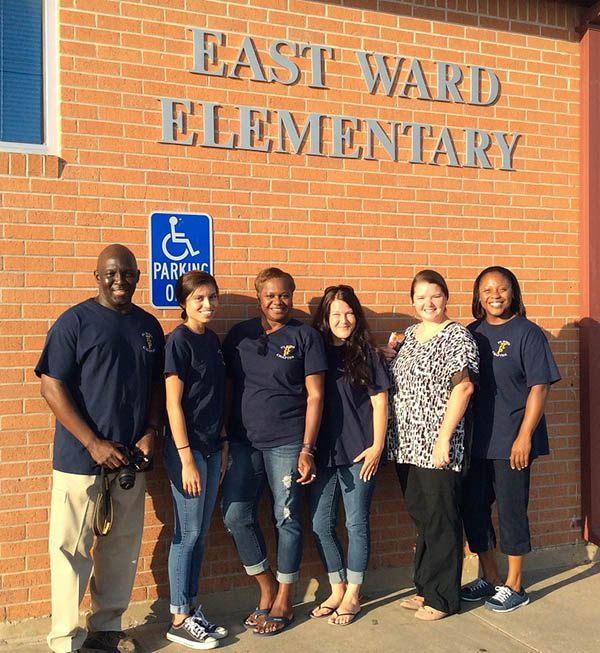 Tuesday, Sep 5, 2017
A&M-Central Texas Social Work Students Practice Community Service
Killeen, Texas – When classes started at East Ward Elementary School, the students and teachers saw a welcome sight: A&M-Central Texas Social Work Professor, Dr. Claudia Rappaport and six social work students, in a caravan of four cars, delivering school supplies to one of Killeen's neediest schools.
"Every year the supply drive is more successful than the year before; we are gratified to be able to provide such tangible assistance to this school," she said.
Members of a social work honor society, Phi Alpha students Phillip Burns, Chantel Johnson, Cynthia Rogers, Jo Marie Gemlich, Ditra Coleman, and Carol Queen spend the summer collecting supplies and raising money to provide for the children whose families can not afford them.
But their generosity didn't stop there. Phillip Burns, a member of Phi Alpha, donated 1,000 spiral notebooks and a check for $1,000 from the Burns HELP Foundation, to the principal, Norma Baker, to go toward whatever other supplies might be needed for the kids.
And while neither Dr. Rappaport nor her students commit to acks of kindness for the notoriety, the good works have not been overlooked.
Their Phi Alpha Honor Society is nationally recognized for its continuous commitment to community service, receiving the 2017 Program of the Year Distinguished Leadership and Service Award from the National Phi Alpha organization -- one of only four awards made nationally.  In fact, they have won the award for the past 10 years consecutively.
Dr. Michael Daley, Social Work Department Chair, applauds his students, but recognizes the source of these good works, adding that Dr. Rappaport, advisor to the honor society has been recognized as national Advisor of the Year multiple times. 
"We are fortunate in social work to have such a strong advisor and a group of students who are so committed to making a difference in our community."