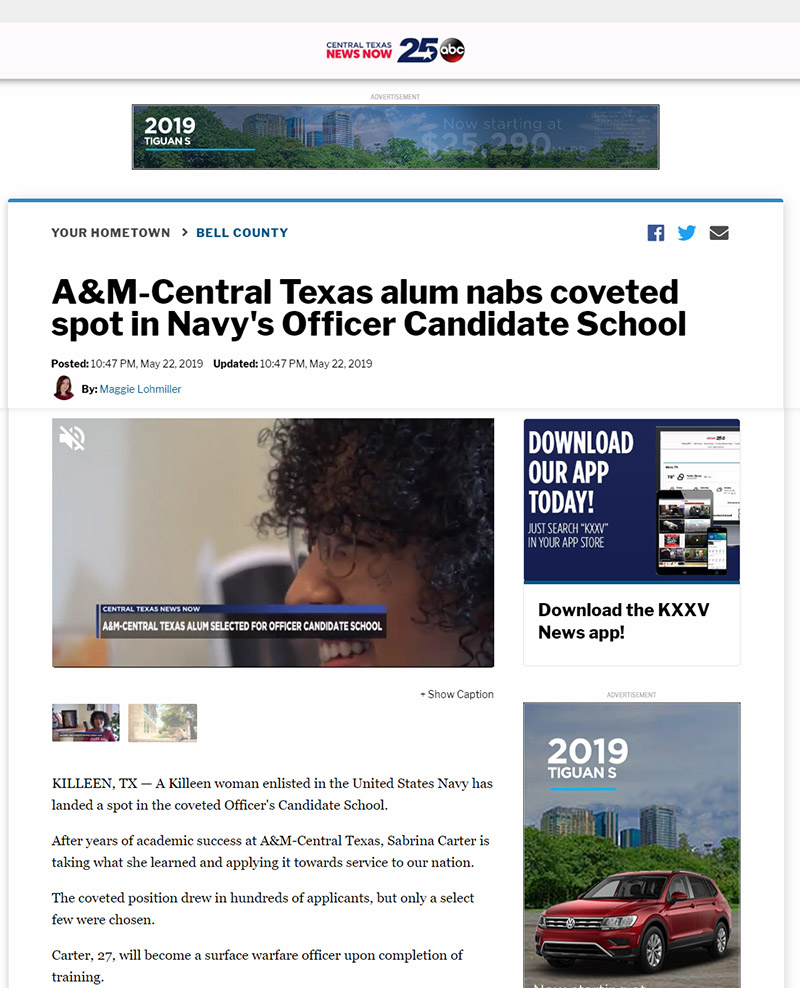 Thursday, May 23, 2019
Warrior student selected for Navy OCS
Read more on these external sites:
KILLEEN, TX — A Killeen woman enlisted in the United States Navy has landed a spot in the coveted Officer's Candidate School.
After years of academic success at A&M-Central Texas, Sabrina Carter is taking what she learned and applying it towards service to our nation.
The coveted position drew in hundreds of applicants, but only a select few were chosen.
Carter, 27, will become a surface warfare officer upon completion of training.
Carter began her academic career in Killeen back in 2014 at Central Texas College. She maintained dean's list status, finishing a certificate of completion in criminal justice and then received an associate's degree.
She continued her studies at A&M-Central Texas, majoring in psychology. She graduated summa cum laude in 2018.
Recruiters candidly told Carter that her chances of being selected for the Officer Training Command were slim, especially because she did not hold a medical or engineering degree.
"I was told that I wasn't going to be able to get it. I think I was told I had a six percent chance or less," said Carter. She did not let the statistics discourage her from applying.
This was not the first time she had been told 'not to try.' Academics did not come naturally early in life.
"I did not do well in elementary school, high school, middle school, there was just no focus on anything. And there was a lot of people that told me that I couldn't. So I just thought, college isn't for me," said Carter. This did not deter her from shining in the classroom later in life.
About 40 percent of Texas A&M University-Central Texas students are affiliated with the military. The schools says they often look for opportunities to inspire students like Carter to become leaders in service.
"It's something that is very important to us and something that some of our faculty are researching on, looking at what things in the classroom work best for military veteran students," said Dr. Sam Fiala, department chair of counseling and psychology at A&M-Central Texas.
Carter reports for training in Newport, Rhode Island on Saturday.