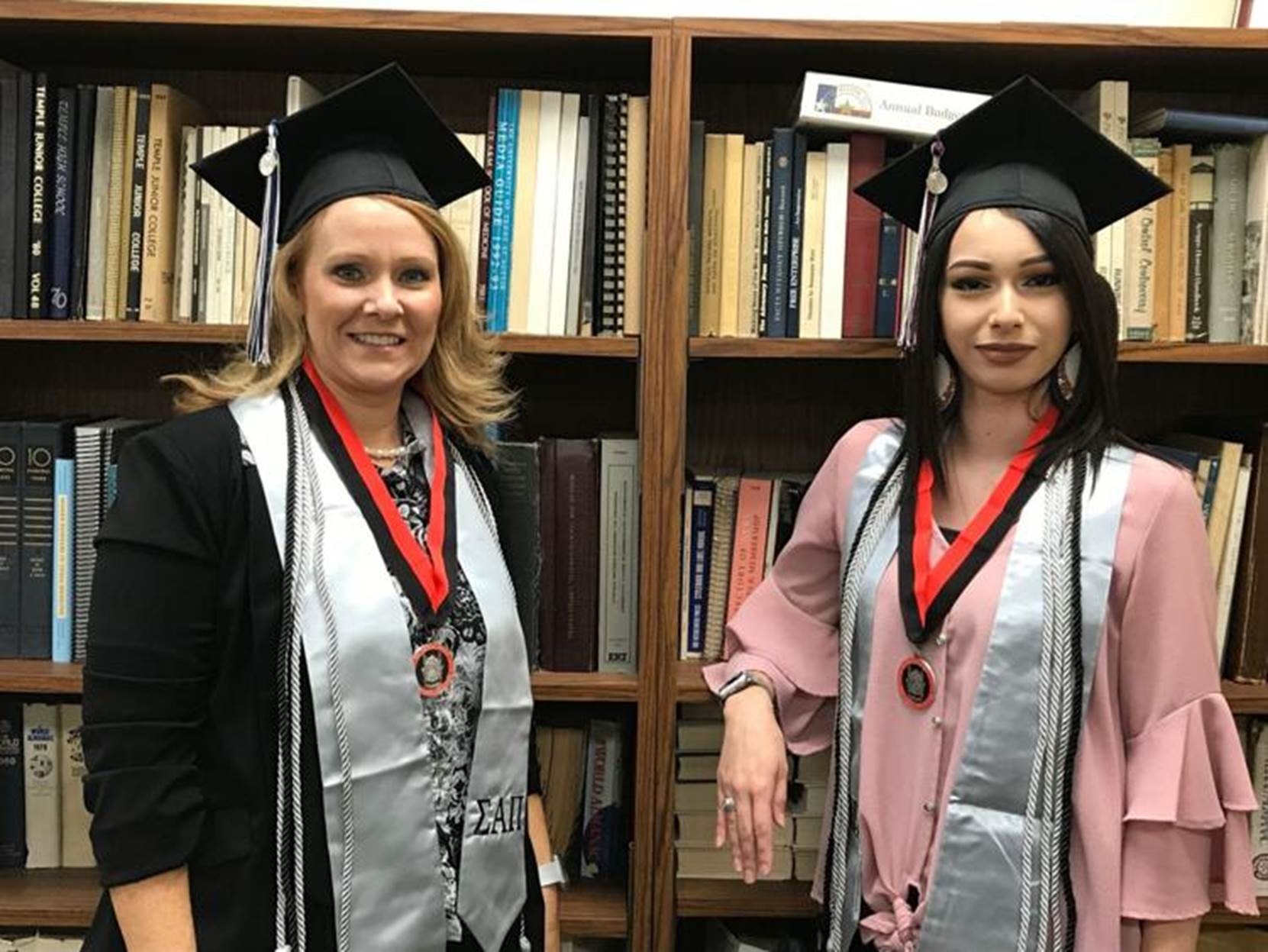 Friday, Dec 13, 2019
Family affair: Temple mother, daughter to graduate from college together
by Janice Gibbs | Temple Daily Telegram
(Photo above) Mother and daughter, Dawna Aleman, left, and Desiree Aleman will graduate together at 7 p.m. today during the Texas A&M University-Central Texas fall commencement service at the Bell County Expo. Both will receive their bachelor's degrees in business administration, but with different emphasis
---
It doesn't take much time to recognize the similarities between Dawna Aleman and her daughter, Desiree Aleman.
They are detail driven and frequently looking forward for new opportunities.
Though it wasn't planned, the two will graduate together with bachelor's degrees Friday from Texas A&M-Central Texas. The ceremony will be at 7 p.m. at the Bell County Expo Center in Belton.
Desiree will be getting her degree in business administration, majoring in management. Dawna is getting a business degree with a focus on human resources.
The two may be finishing these degrees at the same time, but mom began her college effort 20 years ago.
As family obligations increased, the college education stopped and started a few times, Dawna said.
Desiree, who began taking college classes right out of high school, said the two had never considered that they might graduate together, expecting to be in the audience cheering the other graduate on when the time came.
Desiree graduated from Temple High School with her cosmetology license through the school's Career and Technology Education program and has been working as a stylist at Salon Karen since that time.
Dawna has been working fulltime over the past 20 years and was only able to take two to three classes at a time. She took breaks when she had children.
"I really hit it hard in 2012, thinking I've spent enough time taking care of other people, now it's time to do what I need to do," Dawna said.
When Desiree graduated from high school, her mother told her she had to go to college, knowing that in today's business climate, businesses want their employees to have college degrees.
Dawna has been payroll supervisor for the Temple Independent School District for 11 years.
"I'm real comfortable with my position, but if the opportunity were to open up, I'd like to work in human resources," she said. "I'm letting God direct me. I'm not seeking anything, but it's nice to have options."
Many opportunities to move up in a department require a college degree, Dawna said.
"I also just wanted to see if I could do it," she said.
There was no shortage of students Dawna's age at A&M-Central Texas and there were a lot students from the military. "I appreciated that," Desiree said. "They are very respectful and more serious than the younger students." Dawna liked that the school's student population was relatively small.
"We thrive in the smaller environment," she said.
The 2019 fall graduating class is 298.
The mother and daughter are both graduating magna cum laude with high honors and are members of National Society of Leadership and Success at A&M.
Desiree has a 4-year-old son, Jesse, who has served as motivation for her. "I started classes when he was 6 months old," she said.
Jesse has watched his mother and grandmother study and he does the same on his little laptop. "He already knows his alphabet and now he's learning to write it," his mother said.
Desiree said she will stay at Salon Karen, where she is assistant manager.
Currently, she takes care of inventory and purchase orders and will likely take on some of the bookkeeping duties. Eventually, Desiree wants to handle the payroll.
"I'll just do more managerial duties and maintain the stylist work," she said.
Desiree interviewed with Karen Dungan right out of high school. Dungan told her to check out some other salons and then let her know if she still wanted to work at Salon Karen.
"I went home and didn't interview anywhere else," Desiree said. "I liked the atmosphere and I liked Karen, it felt right."
Desiree likes any class that has numbers as its focus. One of her mother's favorite classes was employment law "You really have to think through the cases," Dawna said.
Desiree has lived with her parents while in school and will now be looking for her own place.
"There's going to be a transition phase I'm a little worried about, but it will be fine," Dawna said.
Desiree said she has learned there were students from high school who viewed her as a role model, because they also had children young and didn't see college as a possibility.
"It's a shock, but there's a little person depending on you so you do what is necessary," she said.
Graduating from college is an accomplishment, but so are advancements at work and community involvement, Desiree said.
Dawna said she would tell students who aren't thrilled with the idea of more school after high school to just do it.
"It doesn't matter if you have years of experience, many jobs require a college degree," she said. "I have more than 20 years experience in the payroll field and HR and benefits, some positions just want you to have that piece of paper."
There are things learned in college that have nothing to do with taking classes.
"I've become more analytical and I've learned time management," Desiree said.
The Alemans attended their last meeting about the graduation on Wednesday where they picked up their cap and gown, cords and collars.
They will be sitting together at the ceremony Friday, wearing matching sparkly tennis shoes for comfort and style.