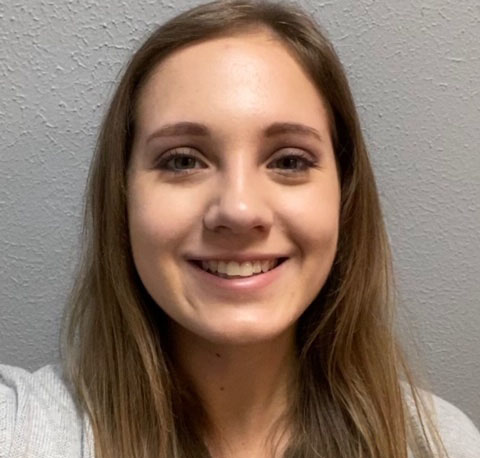 Tuesday, Jun 2, 2020
KayLeigh Tennison wrapped up classes at Temple College and will begin upper-level coursework at A&M-Central Texas
Killeen, Texas – KayLeigh Tennison, 20, has teaching in her blood. Both her mother, Leighann Goodwin, and her maternal grandmother, Patty Stowe, are lifelong teachers. Her mother, she says proudly, has been a teacher in Gatesville, recently becoming an assistant principal at Gatesville Elementary.
Obviously, as a full-time student, KayLeigh has a lot going on in her life for someone so young. After graduating Gatesville High School in 2018, she immediately enrolled at Temple College, where she completed two years of coursework – and an impressive 3.93 grade point average – before transferring to A&M-Central Texas this Fall.
Selected by Gatesville ISD as a part of the Grow Your Own Program, KayLeigh is grateful – not only for the scholarship, but because she knows that when she finishes her degree at A&M-Central Texas, she'll be going back to work in the same school district where she was once a student.
As a child, she says, she knew math was 'her subject.' She embraced its structure and logic and even remembers the moment she realized that math wasn't easy for everybody. So, as a junior high student, she decided to use her love for the subject to help others.
"I realized that I could use my knowledge to help those who had a harder time with it, and I loved that. Becoming a teacher meant that I could turn something I love doing into a career, and immediately, I knew it was my calling."
She was also called to serve within her church, Eastwood Baptist Church, where she is a part-time secretary. She's also a newlywed, recently married to Branton Tennison, 21, a youth pastor at First Baptist Church.
When she thinks of the kind of teacher she will be, KayLeigh naturally thinks of her mother and grandmother, but she also thinks about Mary Hatsell, her math professor at Temple College.
"She is such a genuine person," KayLeigh said. "She got to know her students both in and out of the classroom, always willing to stay late or come early to help anyone and everyone. She will always be a hero to me."
As much praise as she has for others, those who KayLeigh admires feel the same way about her. Mary Hatsell, her Temple College math professor, remembers KayLeigh as a delightful student, describing her proactive yet unassuming approach to life.
"She has an obvious aptitude for mathematics," Hatsell noted. "And her desire to be a teacher is so inspiring. It's her true calling for her, and we are proud to be a part of her journey."
Barrett Pollard, Gatesville ISD Superintendent also applauded KayLeigh's dedication to becoming a teacher, grounded on her beginnings as a student. "She was an outstanding student in high school, and she has maintained that high level of academic achievement at the collegiate level as well," he said.
"What is striking about KayLeigh is that she has never wavered from her goal of becoming a high school math teacher. We are so excited that KayLeigh is starting the final portion of her undergraduate journey. She is going to be an outstanding secondary math teacher, which is extremely difficult to find. We will soon reap the benefits of our Grow Your Own partnership with Texas A&M University-Central Texas, and we couldn't be more pleased."