Designated Hispanic-Serving Institution By U.S. Department of Education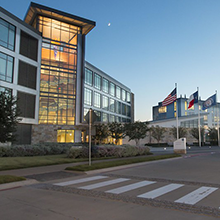 Texas A&M University-Central Texas, the only Texas upper-level/graduate university with a unique primary mission of serving transfer students, has achieved designation as a Hispanic-Serving Institution (HSI).
Federally defined as an eligible institution of higher education with an undergraduate full-time enrollment of at least 25 percent Hispanic students and a high overall percentage of students receiving need-based federal financial aid, HSI designation opens federal funding opportunities focused on expanding educational opportunities, including postbaccalaureate degrees, for Hispanic [and low-income] students.
With this designation, A&M University-Central Texas is eligible for additional resources through federal grants as they continue to fulfill their mission of offering accessible and affordable undergraduate and graduate degree programs.
This designation also opens additional federal research funding streams dedicated to Minority Serving Institutions (MSIs).
A&M-Central Texas President, Dr. Marc Nigliazzo, noted the significance of the designation, adding that the University's FY 2021 annual unduplicated headcount was 3,063 students, and that 25.76% of the student body identified themselves as Hispanic.
"The State of Texas and The Texas Higher Education Coordinating Board has established goals for undergraduate and graduate degree attainment throughout the state," he said.
"The fulfillment of those goals, through enrollment and eventually, graduation, strengthens our county, our region, and our alumni," he continued.
"Ultimately, knowing that our students graduate in roughly the same percentages as their ethnic identification tells us that we are doing the job we were put here to do: making good on the promise of accessible and affordable high quality degree opportunities."
Since its adoption as a regional, public university with The Texas A&M University System, A&M University-Central Texas has worked with community colleges throughout the region and the state.
Similarly, its research and economic development leadership has developed close and continuing partnerships with community and regional businesses and non-profits, including the Greater Killeen Chamber of Commerce and Army Operational Test Command – recently pursuing the development of a university research park.
As an MSI and HSI, Texas A&M University-Central Texas will further develop students' skills, knowledge and abilities through research opportunities underserved populations may not otherwise experience.