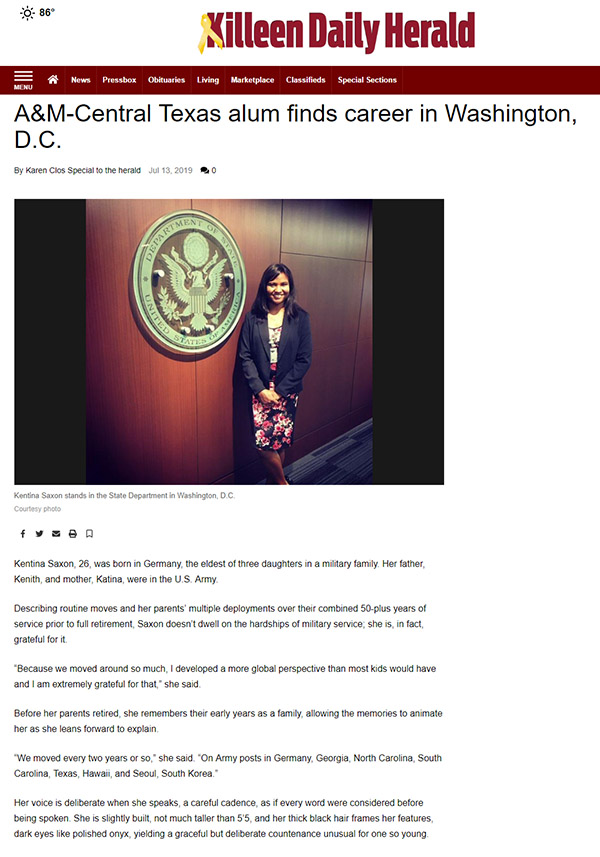 Sunday, Jul 14, 2019
A&M-Central Texas alum finds career in Washington, D.C.
Kentina Saxon, 26, was born in Germany, the eldest of three daughters in a military family. Her father, Kenith, and mother, Katina, were in the U.S. Army.
Describing routine moves and her parents' multiple deployments over their combined 50-plus years of service prior to full retirement, Saxon doesn't dwell on the hardships of military service; she is, in fact, grateful for it.
"Because we moved around so much, I developed a more global perspective than most kids would have and I am extremely grateful for that," she said.
Before her parents retired, she remembers their early years as a family, allowing the memories to animate her as she leans forward to explain.
"We moved every two years or so," she said. "On Army posts in Germany, Georgia, North Carolina, South Carolina, Texas, Hawaii, and Seoul, South Korea."
Her voice is deliberate when she speaks, a careful cadence, as if every word were considered before being spoken. She is slightly built, not much taller than 5'5, and her thick black hair frames her features, dark eyes like polished onyx, yielding a graceful but deliberate countenance unusual for one so young.
When her parents retired, Saxon started taking classes at Central Texas College, transferring to Texas A&M University-Central Texas in Killeen and graduating with her undergraduate degree in December 2015.
She admits not having been very involved as a university student at that point, but, as things that were meant to be often do, something happened that would change all of that.
Now a graduate student in the College of Education's Clinical Mental Health Counseling program, Saxon met Career and Professional Development staffer, Cortina Merrit, who made a presentation during one of her classes on career assessment.
And, to this day, Saxon remembers the impact of that moment.
"I knew I was interested in a career that combined my interest for global affairs and my desire to be of service to people in a way that really mattered," Saxon said. "But I didn't even know such a thing existed until Cortina introduced me to the possible careers in foreign service. I owe her so much for that."
Not long after, Career and Professional Development Director Heather Wheeler and Merritt opened another door, introducing Saxon to diplomat in residence Floyd Cable. After his retirement, Saxon met his replacement, Julie Kavanaugh, who encouraged her to pursue the Pathways Internship Program and other opportunities including a Department of State Virtual Student Foreign Service e-internship with Education USA Armenia, which lead to a clinical internship through the Overseas Professional and Intercultural Training Program in Yerevan, Armenia.
Closer to home, Saxon has served as an intern in the office of U.S. Congressman John Carter and former State Rep. Scott Cosper. And both offered words of praise for her contributions and willingness to serve.
"Kentina is truly remarkable," said Carter. "While in my office, she always served Central Texans with kindness and took on any task fearlessly. There's no doubt in my mind that with her immense drive and positive spirit she will excel in foreign service. No matter how far she travels, Kentina will always be a part of the Team Carter family."
Cosper praised Saxon's work in his office during the 85th Texas Legislature, describing Saxon as extremely committed.
"She was a vital part of our team," he said. "She was a quick student of the legislative process, and it was clear to me, our chief of staff, and the whole team that'd she'd go on to amaze us. We're thrilled that she was selected for the internship and we're confident that she's going to have an amazing career in foreign service. I wouldn't be a bit surprised to see her become an ambassador someday."
Now in Washington, D.C., Saxon is once again an intern, working for the U.S. Department of State in the Bureau of Consular Affairs, learning how to be of service to overseas citizens in need of resources or help resolving emergent situations like crime, theft, or medical emergencies.
And it's there, she says, her undergraduate degree and on-going graduate level coursework at A&M-Central Texas logically dovetails into her professional future.
The first in her family to earn an undergraduate degree, Saxon also recruited her mother to A&M-Central Texas. She graduated in December of 2018 with her undergraduate degree in social work.
Saxon anticipates completing the coursework for her second A&M-Central Texas degree this coming fall and graduating with her master's degree in clinical mental health counseling in December. At that point, she hopes to continue with the U.S. Department of State with American Citizen Services as a civil service employee in the hope of eventually transitioning into foreign service.
For now, Saxon has both feet on the ground, grateful for an education and mentorships that have shuttled her to this point, encouraged her, and showed her the way. Consummately humble, she sees her life as a military child embedding her with a love for foreign service she might not have identified were it not for the Career and Professional Development staff member who inspired her to try.
"This is literally the closest I have ever been to my dream job," she said via a telephone interview. "I'm exactly where I have always wanted to be, doing exactly what I wanted to do, and I'm doing it because of A&M-Central Texas and the Career and Professional Development Office and their staff."
Heather Wheeler, A&M-Central Texas Director of Career and Professional Development, described what it's like to watch Saxon find her professional stride.
"Kentina has spent so much time in our office that she calls us 'ohana' – a Hawaiian word for family," she said. "For us, that's the most gratifying part of our jobs. We get to show her the way, introduce opportunities for her to grow, and her talent takes her the rest of the the way. We couldn't be more proud."