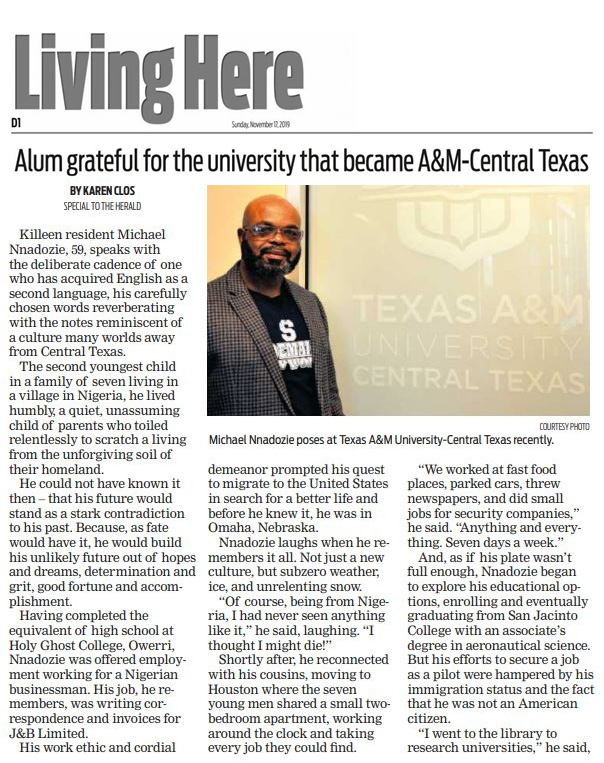 Sunday, Nov 17, 2019
Alum grateful for the university that became A&M-Central Texas
Michael Nnadozie, 59, speaks with the deliberate cadence of one who has acquired English as a second language, his carefully chosen words reverberating with the notes reminiscent of a culture many worlds away from Central Texas.
The second youngest child in a family of seven living in Umunaba Isu Village, Imo, Nigeria, he lived humbly, a quiet, unassuming child of parents who toiled relentlessly to scratch a living from the unforgiving soil of their homeland.
He could not have known it then – that his future would stand as a stark contradiction to his past. Because, as fate would have it, he would build his unlikely future out of hopes and dreams, determination and grit, good fortune and accomplishment.
Having completed the equivalent of high school at Holy Ghost College, Owerri, Nnadozie was offered employment working for a Nigerian businessman. His job, he remembers, was writing correspondence and invoices for J&B Limited.
His work ethic and cordial demeanor prompted his quest to migrate to the United States in search for a better life and before he knew it, he was in Omaha, Nebraska. 
Nnadozie laughs when he remembers it all. Not just a new culture, but subzero weather, ice, and unrelenting snow.
"Of course, being from Nigeria, I had never seen anything like it," he laughed. "I thought I might die!"
Shortly after, he reconnected his cousins, moving to Houston where the seven young men shared a small two bedroom apartment, working around the clock and taking every job they could find.
"We worked at fast food places, parked cars, threw newspapers, and did small jobs for security companies," he remembered. "Anything and everything. Seven days a week."
And, as if his plate wasn't full enough, Nnadozie began to explore his educational options, enrolling and eventually graduating from San Jacinto College with an associate's degree in aeronautical science. But his efforts to secure a job as a pilot were hampered by his immigration status and the fact that he was not an American citizen.
"I went to the library to research universities," he said, "and found American Technological University in Killeen. They had a degree in aviation management."
All these years later, Nnadozie graciously credits that university – American Technological University – with everything he accomplished thereafter.
"If that university hadn't been there for me, I would have never become the person I did," he says, carefully folding his hands in his lap, his index fingers making a steeple as he thought through his next words.
"The opportunity was there. It opened all the other doors for me that would become my life."
What Nnadozie doesn't focus on, or rather, what he looks beyond, is all the times opportunity wasn't there. After graduation, for example, he was again denied two jobs in aviation based on his citizenship status. Still, he found a way, joining the U.S. Army in 1987 and becoming a medical supply specialist.
"It wasn't a flight line," he said, again flashing a 500-watt smile.
It needn't have mattered. Within a decade, Nnadozie had changed the trajectory of his life, ruddered once again by access to education.
Stationed in Gary, Indiana, he attended Perdue University where he earned his second associate's degree, quickly followed by his second undergraduate degree in nursing. By 1998, he was a commissioned officer and pursuing a graduate degree as a family nurse practitioner.
Nine years and a total of nine duty assignments later, he would earn a terminal degree: a doctorate of nursing practice, becoming the first active duty doctor of nurse practice in the Army.
All of it, he says, he owes to a university that doesn't exist anymore. American Technological University became University of Central Texas in 1989, eventually becoming A&M-Central Texas two decades later.
But, he says, even though he has six degrees prominently displayed in his office, it is the legacy alumni certificate he received earlier this month from A&M-Central Texas that is nearest to his heart.
"Like I said, ATU gave me my start. As a community college graduate, ATU made my first undergraduate degree possible and showed me that I was capable of learning and reaching my goals. That has been invaluable."