The Texas A&M University-Central Texas Police Department serves the university community with physical security and protective services, and provides a large portion of the Central Texas region with access to useful training and information.
The University Police Department is established by Texas State Law, Texas Education Code 51.203, and by the Texas A&M University System Board of Regents. The department is led by our Chief of Police, Charles Rodriquez, and is professionally staffed by both full- and part-time officers and non-sworn employees.
The department is dedicated to providing excellent customer service and protection to the campus community, and to maintain a safe learning and working environment for everyone on campus. Additionally, the University Police Department is committed to educating the campus and local communities on personal protection and crime awareness.
---
A&M-Central Texas to host active shooter training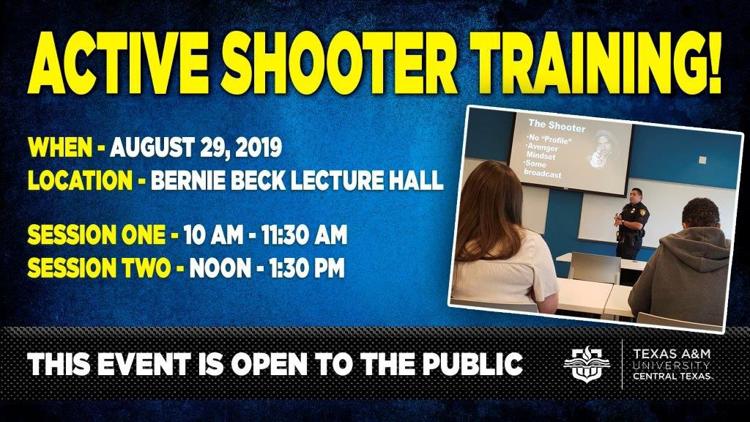 Texas A&M University-Central Texas in Killeen is offering free classes to the public, educating them about active shooters.
Texas A&M University-Central Texas will have a class on Aug. 29 at Bernie Beck Lecture Hall to educate the public about active-shooter situations.
The first class will be from 10 a.m. to 11:30 a.m. and the second will be from noon to 1:30 p.m. The classes are taught by the university's police department.
There will also be other dates that the class will be held. The schedule is as follows:
Aug. 29: 10 am - 11:30 am, and noon - 1:30 pm at Bernie Beck Lecture Hall
Sept. 10: 10 am - 11:30 am, and noon - 1:30 p.m. at Bernie Beck Lecture Hall
Sept. 26: 10 a.m. - 11:30 am, and noon - 1:30 pm at Bernie Beck Lecture Hall
Oct. 9: 10 a.m. - 11:30 am, and noon - 1:30 pm at Bill Yowell Conference Center
Oct. 22: 10 a.m. - 11:30 am, and noon - 1:30 pm at Bill Yowell Conference Center
Nov. 7: 10 a.m. - 11:30 am, and noon - 1:30 pm at Beck Family Heritage Hall
Nov. 18: 10 a.m. - 11:30 am, and noon - 1:30 pm at Bernie Beck Lecture Hall