Most Recent Information Last Update: June 25, 2020
June 25, 2020
Dear Warriors,

Texas A&M University-Central Texas will comply with Bell County Directive #7 issued June 24, 2020. Face coverings must be worn by all individuals in A&M-Central Texas facilities and within 50 feet of building entrances effective June 29, 2020. This includes lobbies, restrooms, hallways, elevators, classrooms, laboratories, conference rooms, break rooms, non-private office spaces and other common spaces. Face coverings are also to be worn while outdoors on campus when social distancing of six (6) feet or more cannot be maintained. Face coverings are not required when alone in a private office. Employees or visitors may request an exception to the policy which will be considered on a case-by-case basis by Human Resources. Students may request an exception through Access and Inclusion.




As stated in the directive and best practices published by the Centers for Disease Control, "face coverings are not a replacement for social distancing, frequent hand washing, and self-isolation when sick." By practicing healthy habits, we can continue our progress toward returning to campus and providing high quality educational experiences in a safe learning environment. Please monitor your email, the university website, and the university's official social media channels for additional updates. Stay healthy Warriors!
University Update:
April 28, 2020
While all of us at Texas A&M University-Central Texas continue to closely monitor and respond to the COVID-19 pandemic, our continuing goal and challenge is to provide quality educational delivery and support in an environment that is safe for our students, faculty, and staff.

On March 31, 2020, Governor Greg Abbot issued Executive Order No. GA-14 asking all citizens of our state to shelter in place, but that order also asked that we maintain statewide continuity of essential services and activities during the COVID-19 disaster. And while we, like other state agencies, have been charged with providing essential services and operations under current restrictions at least through April 30, 2020, we have been permitted to allow the great majority of our faculty and staff to work remotely.

Essential services/operations that continue on campus include the University Police Department and the Mail Room, as well as facilities and custodial services. In addition, staff in Technology Enhanced Learning continue to keep the Warrior Hall computer lab open for students who need access to computers or an appropriate level of internet connectivity.

While our campus is still essentially "open," we ask all of you, both on and off campus, to please follow precautions to limit the spread of COVID-19, taking care to observe a safe six feet of social distancing while minimizing in-person contact with those who are not in your household. Please know that we will provide updates on federal, state, and county directives, will post them here on our COVID-19 web page, and will immediately put into effect specified changes.
 

Classes & Registration
March 31, 2020
Summer 2020 Course Offerings at Texas A&M University-Central Texas
As the impact of the COVID-19 pandemic continues to rapidly evolve, and guidelines for social distancing and public sheltering continue to expand, Texas A&M University-Central Texas, with guidance from The Texas A&M University System, has made the decision to offer all Summer 2020 semester courses in an online format. However, for the present, the delivery of Fall 2020 semester courses remains unchanged and will include a traditional mix of face-to-face and online instruction.
Learn more from the Registrar's office.
Campus Events
March 19, 2020
Spring Commencement ceremonies have been canceled. It is our hope that a combined ceremony might be possible in August.
Most in-person campus events have been canceled or rescheduled through May 8, although many virtual events have been scheduled in their places. The most up-to-date information on events is available on the university calendar and through your CANVAS account.
Required Travel Reporting, Most University Travel Prohibited
March 19, 2020
Scheduled Travel: As of March 13th, no international travel is permitted and no domestic travel is permitted unless deemed mission critical as determined by executive administration.
Recent Travel: New United States government travel restrictions are routing travelers from Europe and other Level 3 countries through a specific set of 13 arrival airports in the United States.
As a result of the increased health screening upon arrival at these airports, and as these airports are experiencing long delays and large volumes of traffic clearing customs and health screening, any international traveler arriving at these airports (listed below) – whether coming from a Level 3 or other country – from Saturday March 14 onward will have an increased chance of exposure than other travelers.
Therefore, any faculty, staff and students returning from international travel on or after March 14 and arriving in-country to clear customs at the Boston (BOS), Miami (MIA), New York City (JFK), Chicago (ORD), San Francisco (SFO), Seattle (SEA), Los Angeles (LAX), Atlanta (ATL), Honolulu (HNL), Newark (EWR), Dallas (DFW), Detroit (DTW) or Washington, D.C. (IAD) international airports should consider themselves as having returned from a Level 3 COVID-19 location and self-isolate for 14 days after their arrival before returning to campus. Self-isolation guidance is listed in Frequently Asked Questions section of this web page and on the CDC Care Guide.
Domestic travelers through all airports and international travelers from non-level 3 countries arriving at airports other than those listed are required only to self-monitor at this time. Self-monitoring guidance is listed in Frequently Asked Questions section of this web page and on the CDC Care Guide.
University Guidance on Travel Reporting: In accordance with guidance issued by The Texas A&M University System, Texas A&M University-Central Texas strongly discourages foreign travel by students, faculty, and staff while the outbreak of COVID-19 remains a dynamically changing and uncertain situation. Members of the campus community should also report all personal international travel to the university if they plan travel or have traveled to a Level 1 or greater risk country.
Individuals traveling to and returning from countries with a risk level of 2 or 3 are required to self-isolate for a 14-day period before returning to school or work. Monitoring and isolation should follow the latest Centers for Disease Control guidelines, which currently suggest at least 14 days without symptoms.
Students traveling to a country assigned a level 2 or 3 risk level by the CDC are to notify the Division of Student Affairs for guidance on required actions upon returning.
Dr. Brandon Griggs
Assistant Vice President and Dean
Division of Student Affairs
Phone: 254.501.5909
Email: studentaffairs@tamuct.edu
Faculty and staff should report foreign travel to their respective supervisor and in accordance with existing university procedures so additional guidance for actions required upon return may be provided.
Information on current country risk levels assigned by the Centers for Disease Control can be found at https://www.cdc.gov/coronavirus/2019-ncov/travelers/index.html.
If you were traveling in a country or area of the United States with a COVID-19 outbreak and have felt sick with fever, a cough, or difficulty breathing within 14 days after you left, you should do the following:
Seek medical advice – Call ahead before you go to a doctor's office or emergency room. Tell them about your recent travel and your symptoms.
Avoid contact with others.
Do not travel on public transportation while sick.
Cover your mouth and nose with a tissue or your sleeve (not your hands) when coughing or sneezing.
Wash hands often with soap and water for at least 20 seconds to avoid spreading the virus to others.
Wash your hands with soap and water immediately after coughing, sneezing or blowing your nose.
If soap and water are not readily available, you can use an alcohol-based hand sanitizer that contains 60 percent to 95 percent alcohol.
Always wash hands with soap and water if hands are visibly dirty.
You Should Know:
You can reduce the risk of transmission within the community by: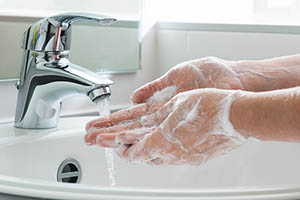 Washing your hands frequently with soap and warm water.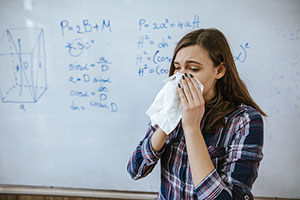 Practicing cough etiquette: Cough or sneeze into a tissue, then immediately throw it away.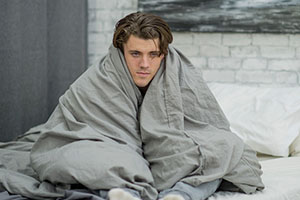 Staying home: You and your health are important. Stay home when you are ill.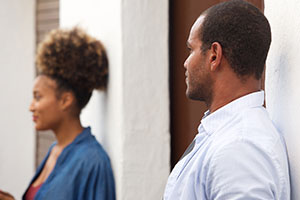 Social distancing: Stay out of crowds and keep 6 feet between you and others.
Additional everyday precautions reduce the risk of spreading COVID-19. Click here to learn more.
FAQs Regarding COVID-19
Behaviors of Bias
March 5, 2020
Be aware that concern around this emerging issue can lead to stigma and bias.
Coronavirus doesn't recognize race, nationality or ethnicity.
Wearing a medical mask or face covering does not mean that a person is ill.
Media Inquiries
March 5, 2020
Media inquiries should be directed to:
Dr. Karen Clos
Executive Director
Communications and Advancement
karen.clos@tamuct.edu
Phone: 254-519-5744

Additional Resources
Texas A&M System Resources
Local Resources
State Resources
Global Resources